Are you thinking about selling your home?
Did we just hear a huge sigh?
Don't worry, you are not alone. Selling a house and moving are considered some of life's most significant events. Therefore, you are allowed to sigh, especially when there is so much overwhelming information and advice out there about what to do and what not to do.
So…today I am here to help clarify one of the newest home selling options on the market—iBuyer. We are going to answer questions such as what does the term iBuyer mean, what is an iBuyer, how does the iBuyer process work, and what the different parts of the iBuyer business model mean. We will also go over the differences between an iBuyer and a house flipper, the pros and cons of using an iBuying service, how much it will cost you when you sell your home to an iBuyer, as well as a word of caution.
So let's get started.
What Does the Term iBuyer Mean?
The term iBuyer is used to describe a company that uses technology to offer a home seller an instant offer on their home. This process is different than the traditional way people are used to selling and buying homes through a real estate agent. This option is also thought to be faster, simpler, and more convenient.
That sounds great…right?
Well, maybe.
Remember…If something sounds too good to be true, more often than not—it is.
But is that the case here? Let's find out.
What Is an iBuyer?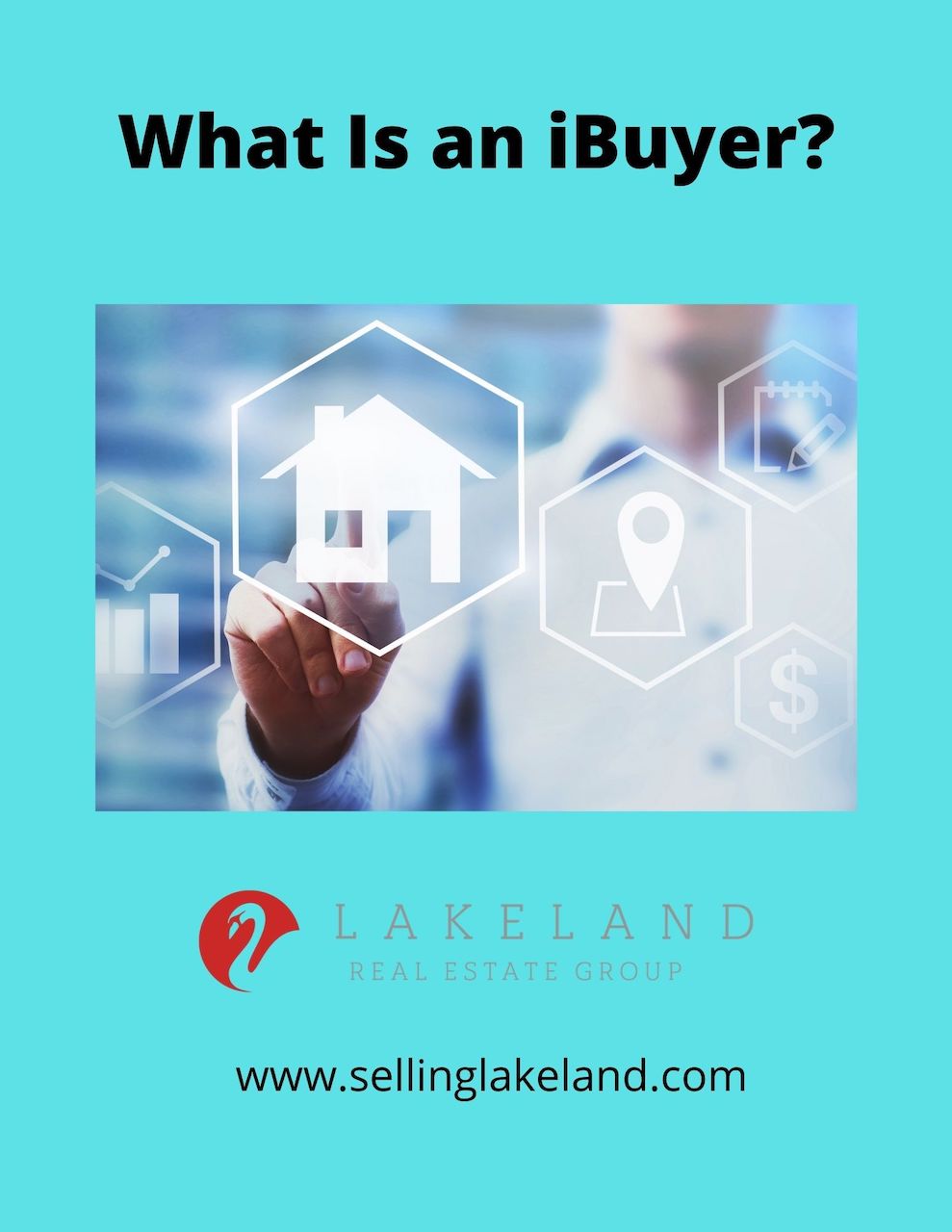 An iBuyer is a real estate investor who uses a digital automated valuation model called an AVM. An iBuyer (real estate investor) uses technology and a variety of data points including the area's comparable sales to find information online about your home. Then, that algorithm is used along with an online questionnaire submitted by the seller to the investment company (iBuyer) to calculate an offer for that home usually sight unseen.
What Does the "i" In iBuyer Stand For?
The "i" in iBuyer stands for instant (also sometimes thought of as internet or institutional). An iBuyer home sale is an instant sale between an iBuying service (real estate investor) and a home seller. OK, that sounds a little vague, doesn't it? So let's talk about exactly how the iBuying process works.
How Does the iBuying Process Work?
Selling your home to an iBuyer is a little different than the traditional seller-real estate agent relationship. And, each iBuyer uses a slightly different valuation and purchasing model so they are not all the same. However, the overall process goes something like this.
A seller goes to an iBuyer website and puts in the home's address.
The iBuyer service will then ask the seller to fill out a questionnaire about their home.
Sometimes the seller will receive an instant offer. In other cases, the seller will receive an offer within 24 hours or so.
The iBuyer offer is a cash offer to buy the seller's home.
The seller then decides whether or not to accept the offer.
If the seller accepts the offer, he/she has the option to close in just a matter of days or longer depending on their needs.
The iBuying option is not offered in all areas.
Once an iBuyer home purchase has been completed, the investment company will usually make some minor repairs so they can quickly resell it at a higher price. They will then list that property for sale on the multiple listing service (MLS). Some iBuyer services have their own agents to sell their homes and others use third-party real estate agents to sell their homes for them.
What Is the Standard iBuyer Business Model?
As we mentioned above, not all iBuyers use the same business model and they don't all offer the same services. So there's isn't a standard one-size-fits-all business model.
Alternatively, some iBuyers prefer to call themselves a full-service real estate company. This means they also offer other services rather than just buying and selling homes. Some iBuyers offer buy, sell, and trade in services. They might also offer title and insurance services, repairs, and even financing in some cases. This could be good or bad; however, it does leave room for a possible conflict of interest so keep that in mind.
The Traditional iBuyer Sale
This is most frequently used by sellers who have to sell their home fast regardless of the price they get for it. However, sellers who don't need to sell their homes fast also use iBuying services, just not as many.
The iBuying Trade-In Option
The iBuying trade-in option is for sellers who want to sell their home and buy another one at the same time. This is sometimes attractive to sellers because of the potential for error when it comes to simultaneously selling and buying a home. However, most real estate agents have helped people navigate buying and selling a home at the same time for many years and have had very few problems with doing so. This is because many home sales are between people who have to sell their home before being able to complete the sale on another one. So there is generally a mutual give and take between the two parties.
The Bridge Financing Option
This is almost like the trade-in option but with a twist. The bridge financing option when dealing with an iBuyer goes something like this.
The iBuying service enables you to buy a house. This means the iBuyer buys the house for you. The iBuyer then leases that house back to you until your old house is sold. You then list your old house through a traditional real estate agent and if your home doesn't sell within the designated amount of time (usually six months or so) the iBuying service will buy it from you at the previously agreed-upon price. After selling your old house to the iBuyer or a traditional seller (whichever comes first), you can then use that money to terminate the lease on your new home and commence with completing a mortgage for that home.
What Is the Difference Between iBuyers and Home Flippers?
The idea between iBuying and home flipping is similar in that both parties are real estate investors. But that's where the similarities end.
House flippers use a business model where they attempt to buy a house as low as possible and sell it as high as possible. So in this case, a flipper is looking for distressed homes, fixer-uppers, or homes that need a significant amount of work. They then remodel the house and sell it for top dollar.
Alternatively, an iBuyer looks to buy homes that are already in good condition and only need minor repairs. The iBuyer then makes those minor repairs and puts that home back on the market to resell it.
The Pros and Cons of Selling Your Home to an iBuyer
Just like anything else there are pros and cons to everything and selling your home to an iBuyer is no exception. So let's go over the pros and cons of selling your home to an iBuyer. Then you can decide if that seems like the right fit for your particular situation. 
Pros: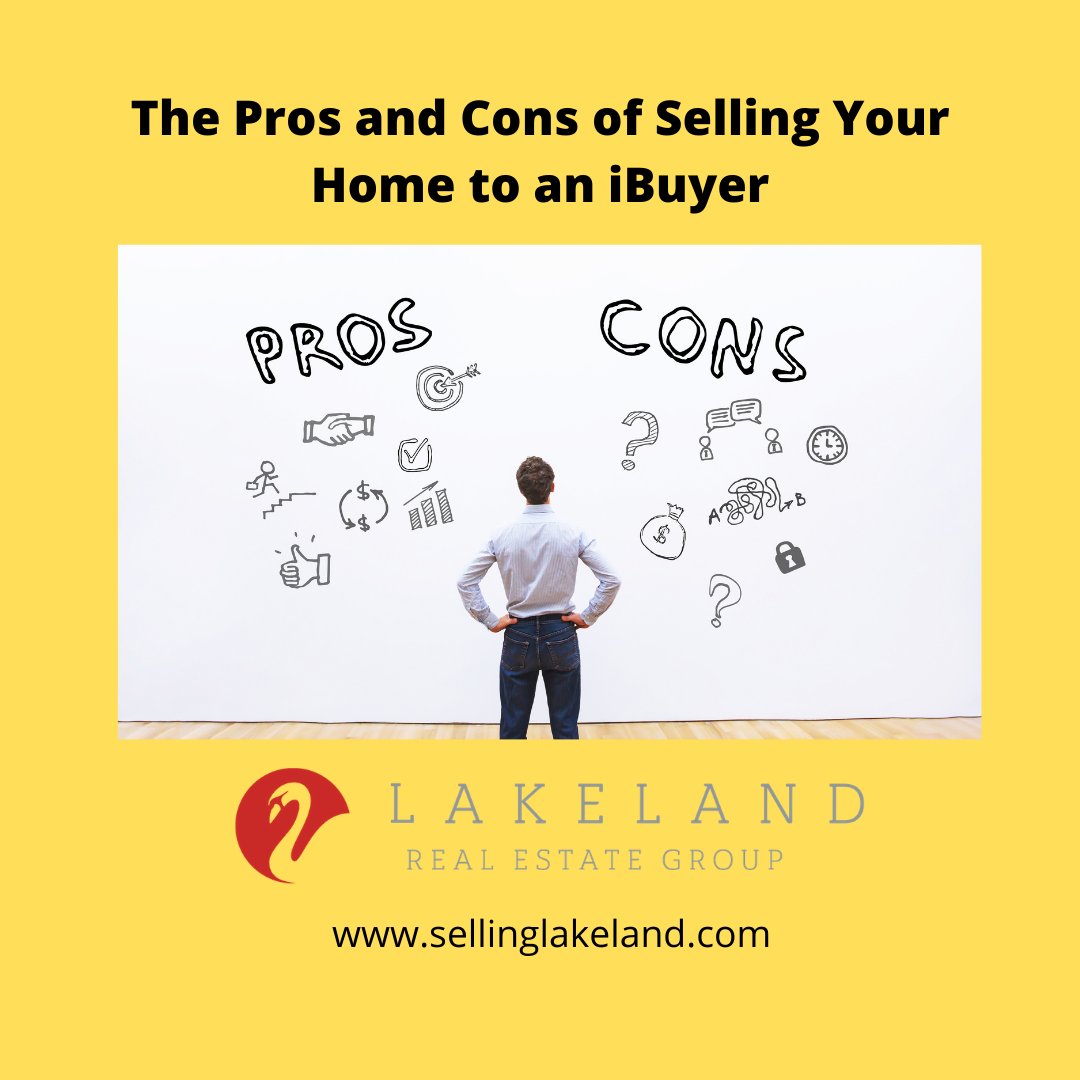 The home selling process is much quicker. When selling to an iBuyer, you will generally have a cash offer for your home and close on it in a matter of a few days. So you are able to move within your own timeframe.
You can buy and sell at the same time. When selling to an iBuyer, you can quickly sell your home. This will give you the cash to go buy another home without having to include that as a contingency.
Selling your home to an iBuyer is also more convenient than selling your home traditionally. This is because you don't have to fix your house up or clean it. Selling to an iBuyer also eliminates the need for showings.
When selling to an iBuyer, there is less uncertainty. This is because once you accept the offer, it's a done deal. You don't have to worry about the buyer not being approved for a mortgage or failing to come up with the down payment, etc.
Cons:
iBuying services are only offered in certain areas.
An iBuyer is generally only interested in a particular type of home such as one that is in fairly good condition and is within a specific price range.
iBuyers are in business to make money. So when selling your home to an iBuyer, you will almost always receive a significantly lower offer, usually thousands of dollars less than you would if you sold your home on the open market. Basically, you are selling your house at a lower offer in exchange for the convenience. However, if using the right real estate agent, you will generally be able to sell your house at a much higher price, but you will also be getting someone who will be doing pretty much all the work for you too.
An iBuyers automated valuations don't always give an accurate assessment of your home's true market value.
The seller still has to pay closing costs the same as a traditional sale.
The bottom line is…a real estate agent will do the same and much more to get you top dollar for your home.
How Much are iBuyer Fees
iBuyers charge a fee for their services. This fee is for taking a house "off your hands" for you. iBuyers fees generally run anywhere between 6% to 8% of the sale of your home. And that's on top of you accepting a significantly lower price on your home. So, according to MarketWatch, selling to an iBuyer could end up resulting in you getting 11% less for your home than you would have you sold it on the open market.
Yes, you will pay a commission if you have a real estate agent sell your house for you, but the typical commission is about 6% of the home's final sales price. Additionally, you will generally also sell your home for a lot more money as well. That means you win on both ends of the deal when you sell your home traditionally versus selling it to an iBuyer. Besides, don't you want an expert working with you when it comes to dealing with one of the biggest transactions of your life?
A Word of Caution
There is no shortage of iBuyer scams. So make sure you perform your due diligence about any given iBuyer company before turning your home over to just anyone. Always make sure you are dealing with a reputable company and never deal with a company that requires you to pay money upfront. In an iBuyer sale, no money changes hands until the closing. And even then, the entire transaction should be handled by a third-party title company.
About the author: What Is iBuyer and What Are the Pros and Cons of Selling a Home to iBuyer was written by Petra Norris of Lakeland Real Estate Group, Inc. With over 20 years of combined experience of selling or buying, she would love to share her knowledge and expertise. Petra can be reached via email at petra@petranorris.com or by phone at 863-712-4207
Are you thinking of selling your home? I would love to share my marketing expertise of our latest marketing techniques with you.
We service the following Central Florida areas: Lakeland, Auburndale, Mulberry, Winter Haven, Bartow, Plant City, Seffner, Valrico, Polk City, Lake Alfred, Lake Wales, Haines City, and Davenport FL.
Don't forget to request our free Seller's Guide.