So…you've decided to sell your home. Great! You are probably excited to begin a new chapter in your life. And, you have probably gone through your house—cleaned, decluttered, and everything else you needed to do before putting it on the market—right?
Good. That's what you're supposed to do; however, there are certain maintenance tasks you also need to complete before you put your home on the market.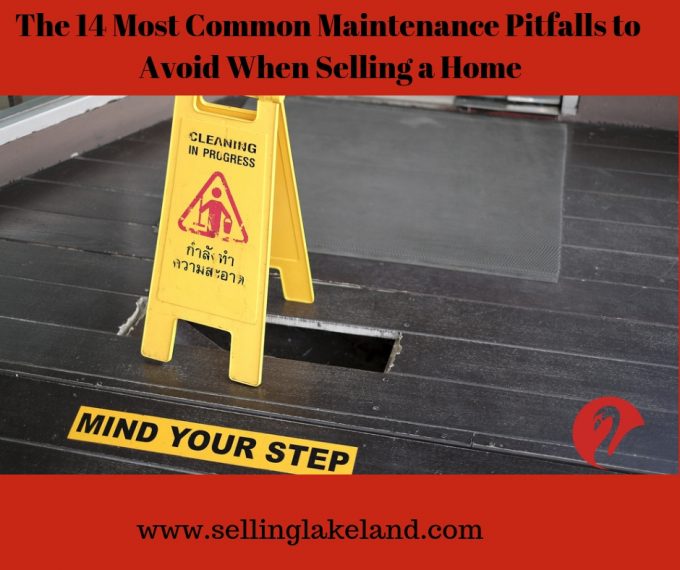 Do you know what they are?
Are you sure?
Failing to complete these critical maintenance tasks before you put your home on the market could cause you to receive lower than asking price offers, or worse, lose sales.
Why?
Because buyers will often form an opinion about your home, how it has been maintained, and the overall value of it based on what might have been an incorrect perception. A quick visual that was derived simply because they saw one small maintenance issue that was neglected.
Crazy, but true!
This happens because it's human nature to look for things that are wrong versus looking for all the things that are right. So what happens is a buyer might see one thing that's wrong, then suddenly they begin to actively look for more issues while completely ignoring everything that's right.
You can help circumvent this from happening by simply making sure everything appears to be in good working order—especially the maintenance.
Here Are 14 of the Most Common Maintenance Pitfalls When Selling a Home and How to Avoid Them
1. Curb Appeal (the not so obvious things)
You probably already know how important curb appeal is when it comes to selling your home. You know that you should mow, trim, etc.
But there are a few other not so obvious curb appeal tasks, aka, general maintenance tasks most sellers miss.
While preparing your home for sale, go outside and look up. What do you see? If you see dead tree limbs or other tree debris, have your trees trimmed and thinned out. This shows you are a conscientious homeowner who takes care of their property inside and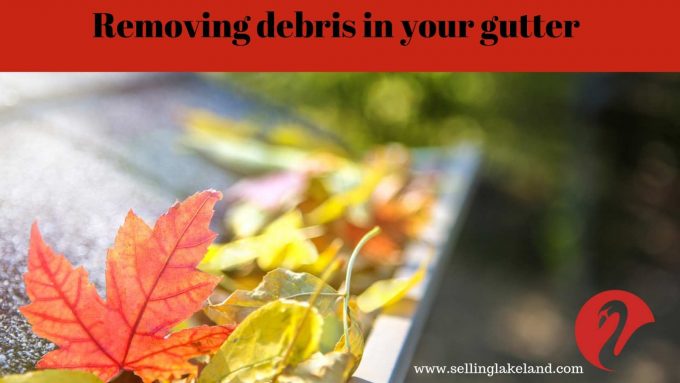 out.
If a potential buyer drives up to your home and the first thing he/she sees is debris overflowing from the gutters (even if everything else is perfect), their first impression will be that your home has not been properly maintained. This will immediately lower the value of your home in their mind.
Dirty Windows and Window Screens
Dirty windows and window screens could cost you. Why? Because if your windows and screens are dirty, you have given a potential buyer something to distract them from the rest of your home. Dirty windows and screens could catch the attention of a buyer so now you have them looking at your windows and asking you to replace them. All because they have the "appearance" of being in disrepair or look as if they have broken seals, etc.
Mold or Algae on the Roof
Look at your roof before putting it on the market. Not only for needed repairs, but also for mold, algae, or dirt of any kind and have it professionally cleaned if any of those issues are present.
NOTE: Don't try to clean the shingles yourself because you could unknowingly damage them and void the warranty, especially if you don't know what you're doing.
While having your home and roof inspected prior to putting it on the market, have the inspector look for small holes, etc. that small critters could be using as entryways into your home or attic and fix them. Nothing is sure to blow a sale like a perceived rodent infestation!
Dirty, Unkept Patio Furniture and Other Yard Items
Regardless of whether it's summer or winter, make sure your patio furniture is in good (or at least neat and clean) condition. Wash the table, chairs, umbrella, etc. and place the chairs around in an orderly fashion. And, if your patio set, etc. is too far gone, get rid of it. This goes for anything else in your yard as well, such as lawn mowers, swings, sheds, trampolines—anything and everything! These are the things that will paint a mental picture of you, your house, and how well you've taken care of it in a buyer's mind.
2. Chimneys
If your chimney has a white coating on the brick, that could indicate a moisture problem and a home inspector will probably nail you for it. That white coating is called efflorescence and it occurs when moisture comes through the masonry. Moisture picks up minerals and leaves behind a coating of mineral crystals. A small amount of efflorescence isn't usually a cause for concern. However, if your chimney has a heavy coating of efflorescence, you probably have cracked or broken flue liner, or worse. And when that moisture freezes and melts repeatedly it will slowly destroy your chimney from the inside out.
3. Cabinet Doors
Cabinet doors that either slam shut or don't shut all the way could be seen by a potential buyer as something they will have to spend big money on because they will perceive those cabinets as needing to be replaced. So if you have cabinets that slam shut, buy some felt or rubber peel-and-stick door bumpers to fix that issue. If you have cabinets that don't shut all the way, adjust the hinges if you can and if not, buy some cabinet door magnets (sometimes called magnetic cabinet latches) which will keep the cabinet doors closed when not in use. Problem solved!
4. Loose
Showerheads
If your showerhead(s) are loose where the pipe meets the wall, a buyer might see this as something that will cost them money because they could assume that it leaks behind the wall, even if it doesn't. You can easily fix this problem by buying some expanding foam (it comes in a can) and putting a few squirts of it in the wall. This will encase the pipe and keep it from wobbling. Of course, if it does leak, you will want to have that leak fixed; otherwise, it could come back on you later as an undisclosed repair.
5. Ceiling Stains
A ceiling stain could devalue your home, even if you've had the roof replaced. Buyers will see ceiling stains as just another thing they will have to spend money on if they buy your home. But you can easily cover those stains with a product called KILZ. This product comes in a can and is blended to match just about any aged (white) ceiling.
6. Door Seals
You probably aren't thinking about your door seals when preparing your home for sale. However, if a buyer can see daylight around a closed door, or if they can tell it doesn't shut and seal properly when it's closed, it could devalue your home in their mind. It's a good idea to add some fresh new weatherstripping around your doors before putting your home on the market. So rather than having the appearance of an old, needing to be replaced seal, your home will give the impression that it's in good shape. The door is one of the first things a potential buyer will see so make it count. Remember, every little thing you do is setting the tone for the entire tour and ultimately the potential buyer's end perception about whether or not your home is worth the asking price.
7. Roof Vents
Even if your roof is in great shape, oftentimes the roof vents will look worn, discolored, hail dented, or they might even have cracked housings or broken seams. You could just caulk and paint them. However, that will give the perception that you were trying to take some shortcuts. This could lead a potential buyer to think that you might have taken other shortcuts he/she needs to be concerned about. So rather than trying to repair them, why not replace them. It's easy to do and will make a huge difference when it comes to your home's perceived value, not to mention making your roof look newer and in better shape.
8. Striker Plates and Door Kick Plates
Everything you can do to make your house appear to be in good shape will help increase its value in a buyer's mind. And while the striker plates and the door kick plates might not be something a buyer will specifically look for, they will notice them if they are shiny and new. Therefore, by replacing those old worn out, paint covered striker plates and that tarnished old kick plate, you will have given your home a cosmetic upgrade that doesn't cost much and will make your home look well-cared for and worth the asking price.
9. New Door Knobs and Locks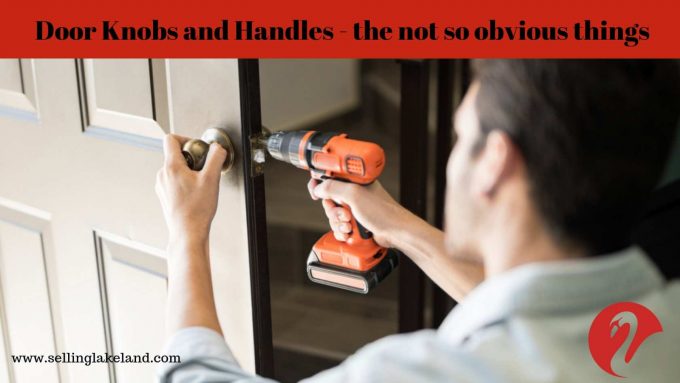 The same concept goes for your door knobs and locks. The first thing a buyer will do when coming to your home is open the door and if the doorknob looks old, is loose and just has an unpleasant feel to it, those doorknobs have just psychologically devalued your home. They are easy to replace and the job doesn't cost much to do.
In the same respect, if your door locks also look new and work properly without having to jiggle the key or work the lock to get it to open, this is just another thing a potential buyer will notice and it will add to their overall favorable opinion of your home.
10. Wood Scratches
Not many people think about the scratches on the wood that's in their home. However, scratches can easily make a home look older and as if it is in need of repair. You don't want anything in your home to give that illusion. So go ahead and find a wood pen or scratch cover-up that matches your wood and use it to improve the cosmetic appearance of your home.
11. Wood Dents
Does your wood flooring or any other wood in your home have some dents? If so, you might have thought there was nothing you could do about it…right?
Wrong!
You can easily fix those shallow dents in any wood surface with a little water and a hot iron. Here's how.
By fixing this one issue, you could have easily increased the value of your home by thousands of dollars because instead of a potential buyer seeing a wood surface that needs to be sanded and refinished, all they see is a wood surface that's in good condition.
12. Sticking Drawers
Nothing screams old more than sticking cabinet drawers. You can easily fix this issue with a block of household paraffin wax. This type of wax is commonly used for making candles and canning. You simply take the block of paraffin wax and rub it along the drawer slides and anywhere else that might be creating friction and causing them to stick. Doing so will significantly improve the way your cabinet drawers slide, in turn, increasing the perceived value of your home.
13. Appliance Touch Ups
With daily use, your appliances might have developed some scratches or chips in the paint. This will make an otherwise newer appliance look as old as the hills and that's not good for your bottom line. So go ahead and order some appliance touch-up paint. However, when applying it, apply it in several thin coats rather than trying to fill the area all at once. Also, if you use the porcelain-like version that's made for stoves and sinks, it will be easier to make them look like new.
14. Squeaky Hinges
Anything that distracts a potential buyer from the positive aspects of your home, is like throwing money in the trash. Especially when it's something that is an easy fix like squeaky hinges.
Imagine that a potential buyer is touring your home and so far they absolutely love everything they are seeing. Then, they open an interior door and out comes a loud, nerve-wracking screech. Now, suddenly, instead of thinking this is a great house with no issues, they will begin wondering why that door is so loud…could there be some underlying foundation issues, or worse?
Once that happens, it doesn't matter whether your home has underlying issues or not because the buyer now perceives that it does and they will continue the tour through your home actively looking for things that are wrong rather than looking for the things that are right. All because of a simple little repair that wasn't completed.
So how do you correct squeaky hinges? Petroleum jelly. Yep—that's it! You simply apply a little petroleum jelly and voilá the squeaks are gone and you've have probably just saved yourself from losing a sale.
What's Next?
Would you like more uncommon maintenance pitfalls that could cost you the sale of your home? If so, please Contact Us today. We would love to provide you with some professional tips that could easily increase the value of your home without breaking the bank.
Can you say—SOLD?
Other Resources when selling your home
Why Homes Come Back on The Market – Bill Gassett
Are You Spooking Buyers Away With Your Listing Photos? – Sharon Paxson
Top 4 Room Maintenance Tips for Your Home – www.lakelandfloridaliving.com
House Painting Colors Help Sell Homes Faster – John Cunningham
How Your Backyard Can Increase The Value of Your Home – Anita Clark
Staging Outdoor Living Area – Kevin Vitali
___________________________________________________________________________________________________
About the author: The above real estate article "The 14 Most Common Maintenance Pitfalls to Avoid When Selling a Home" was written by Petra Norris of Lakeland Real Estate Group, Inc.  With over 20 years of combined experience of selling or buying, she would love to share her knowledge and expertise. Petra can be reached via email at petra@petranorris.com or by phone at 863-712-4207
Are you thinking of selling your home? I would love to share my marketing expertise of our latest marketing techniques with you.
We service the following Central Florida areas: Lakeland, Auburndale, Mulberry, Winter Haven, Bartow, Plant City, Seffner, Valrico, Polk City, Lake Alfred, Lake Wales, Haines City, and Davenport FL.