So…you are getting ready to sell your home. That's great! However, you are probably feeling a little intimidated. Don't worry that's completely normal, even if you have sold a home before.
Does this sound like you?
Selling a home isn't something you do every day; therefore, most people aren't well-versed in the home selling process. However, a little research can go a long way in educating yourself so you completely understand each step without feeling intimidated.
So let's go over some of the basics regarding the seller's closing costs such as:
What are closing costs?
Does the seller pay closing costs in Florida?
How much are the seller's closing costs in Florida?
What is a Seller Paid County?
A List of the most common seller's closing costs and ranges in Florida and their explanations
What is a Butler Rebate?
How to lower the seller's closing costs
How to avoid the most common closing day surprises
What are Closing Costs?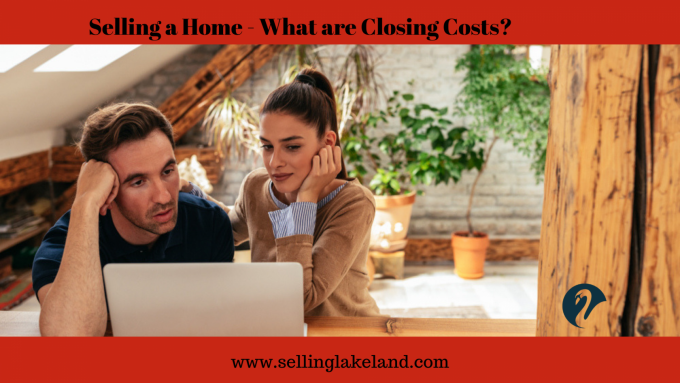 When buying or selling a home, the closing costs are the fees associated with buying or selling real estate. There are specific fees paid by the buyer and specific fees paid by the seller. These fees are paid at the closing when the home is legally transferred from the seller to the buyer.
Does the Seller Pay Closing Costs in Florida?
Yes. A seller is required to pay closing costs in Florida; however, how much the seller is required to pay will vary depending on a variety of factors. We'll get to those factors in just a moment.
How Much are the Seller's Closing Costs in Florida?
A homebuyer can expect to pay somewhere between 2% and 5% in closing costs. However, sometimes a portion of the buyer's closing costs can and are paid by the seller as an incentive to sell their home. But there are limits as to how much of the buyer's closing costs a seller is allowed to pay and that will depend on whether the mortgage is a conventional, VA, or FHA loan. Therefore, it's best to consult with your real estate agent should this issue arise.
NOTE: The seller's closing costs in Florida can be as high as 7%, if the seller lives in a seller paid county.
What Is a Seller Paid County?
Florida has what's called a split-market. That means in some Florida counties the seller pays most of the closing costs and in other counties, the buyer covers most of the closing costs. So talk with your real estate agent about which rule pertains to your particular county so you know what to expect in advance.
A List of the Most Common Seller's Closing Costs and Ranges in Florida and Their Explanations
Here is a list of the most common seller's closing costs in Florida and their estimated ranges.
➣ Title Insurance – 2% to 5% of the purchase price
Buying title insurance is not required in Florida; however, most lenders will require the buyer to purchase it as a stipulation of the loan. Additionally, title insurance rates are set by the state. And since some counties require this to be paid by the seller, we have provided you with the formula below.
Here's the formula:
The rate is determined by the sale price. The first $100,000 of the sale price is a fixed rate of $575, the rest is calculated at $5 per $1,000 up to $1 million of the sale price. After that, it's $2.50 per $1,000 up to $5 million.
➣ HOT TIP: A Little Known Fact
    The Butler Rebate
In Florida, buyers and sellers are given the right to negotiate title insurance premiums with the title company. The Butler Rebate gives a title insurance agent the option of giving the paying party a rebate, or a credit on the percentage of the insurance premium upon closing.
 ➣ Municipal Lien and Tax Search –  Average Cost Range $250-$450
A municipal lien search is performed to uncover any pre-existing unrecorded municipal liens, any type of code violations, special assessments, unpaid utility's, and open or expired permit issues associated with the property in question.
But I'm the seller, why should I pay for this?
Well, technically, in most cases, you don't have to; however, if you pay for this and have it done upfront, this is a huge selling point to a buyer. Performing this upfront will add value to your listing and could possibly result in a higher selling price.
Besides, these things are the seller's responsibility anyway, but they become the buyer's responsibility if not paid prior to the closing. So why not give your buyer this upfront peace of mind and one less thing they have to pay for and worry about?
But wait…aren't these things researched as part of the title search?
Nope!
A title search only looks for recorded liens on the property. It doesn't research municipal debts against real property.
➣ Title Abstract – $175-$250
The title abstract is almost the same as a title search except that it doesn't stop at 40-60 years into the title history. It continues to the point where records are no longer available. This is something the buyer might ask the seller to pay for.
➣ Mortgage Payoff – Amount based on what you still owe on your mortgage
At closing, the seller will be required to pay off any outstanding balance on the home's mortgage loan. This can be taken out of the proceeds from the sale of the home.
➣ Outstanding Debts
All outstanding debts will need to be paid in full before the closing or taken out of the proceeds of the home sale at closing. This includes mechanic or contractor liens, past due utilities, PACE loans, etc.
➣ Home Warranty – costs vary
It's common for a seller to offer at least one year of a home warranty to the buyer as an incentive to buy the home. The home warranty protects against unexpected failures in your home's major systems and appliances. The cost varies but is relatively inexpensive for what's offered.
➣ Real Estate Commissions
Real estate commissions are split between the listing broker and the buyer's broker. The real estate commission is an agreed percentage or dollar amount to be paid to the listing brokerage. At closing the commission is divided up and paid to the brokerage firms and/or the real estate agents at closing. Yes, these commissions are generally negotiable. However, just remember, you get what you pay for.
➣ Closing Agent/ Document Prep Fees – $500-$800
These fees are for managing the closing process, handling money, making debt payments, working with Realtors/property owners association/lender, updating public records, and the handling and finalizing of all documentation.
➣ Notary – fees vary
A notary fee is charged for the cost of having a licensed notary public swear that the persons named in the documents did, in fact, sign them. This fee is sometimes paid by the buyer and other times by the seller. It will depend on how the contract was negotiated.
➣ Documentary Stamps – $0.70 per $100 of the sale price (except for Miami-Dade County )
This is commonly referred to as a Doc Stamp or an excise tax and it's imposed by the state of Florida based on what you sold your home for. And it's charged to the seller upon the home's transfer of ownership.
➣ Real Estate Tax Prorated – your current year of taxes are prorated at the closing
In Florida, property taxes are paid in arrears (one year behind). That means when you sell your home, you only need to pay the yearly property taxes up to the day before you close and the buyer pays the remainder of the year.
➣ Deed and/or Other Recording Fees – these are set fees
The fees for the deed and other recording fees are set at $10.00 for the first page and $8.50 for each additional page.
➣ Courier Fees – $50-$75
Most lenders charge courier fees. These are the fees incurred to overnight or wire the mortgage payoff(s) to the lender. You can expect to pay $50-$75 per payoff.
How to Lower the Seller's Closing Costs
Most lenders allow a seller to pay between 3% and 6% of the buyer's closing costs. However, if you are trying to lower your closing costs, you can decide not to pay any portion of the buyer's closing costs. Alternatively, you can raise the price of the home to compensate for that extra expense.
Additionally, you could look for other ways to lower your closing costs such as negotiating a lower rate for some of the standard negotiable closing costs. Ask your real estate agent for advice on which of these fees he/she feels can be negotiated for your particular situation.
How to Avoid the Most Common Closing Day Surprises
Selling your home is stressful enough, but even if all goes well, most people still have anxieties about the closing. Here are several things that are commonly misinterpreted or not thoroughly communicated prior to the closing.
What stays and what goes.
Always make sure the buyer knows exactly what is staying and what's going. For example, the window coverings, chandelier, entertainment center, appliances, patio set, shed, etc.
Forgetting to disclose HOA or other neighborhood fees and policies.
This usually isn't a problem; however, if your neighborhood has an HOA or any other fees, make sure it's in the contract and that the buyer knows and understands its implications. They should also receive a copy of the neighborhood's HOA CC&R's (covenants, conditions, and restrictions). Here's an example of how easily a problem can arise. Let's suppose the buyer's favorite paint color is one that isn't allowed, fences are not allowed, or the buyer has a dog breed that isn't allowed. Now you have a big problem on your hands. And while a buyer may or may not be willing to overlook the paint color or the fact that they can't put up a fence, chances are the buyer won't get rid of their family pet. These are some of those "little things" that could jeopardize the sale.
Not keeping your real estate agent in the loop.
You should communicate everything to your real estate agent, even the smallest of details. This means you should never work deals with the buyer outside of the process and without your agent. For example, this could result in a "he said, she said" issue with no way of ever being proven or resolved and could ultimately ruin the sale.
What's Next?
If you are thinking about selling a home and/or buying a new one, please Contact Us today. We would love to help you sell your home quickly and for top dollar—let us show you how.
Other valuable Resources when Selling a Home
What are Closing Costs Credit in a Real Estate Offer – Bill Gassett
Top Frequently Asked Questions From Home Sellers – Kyle Hiscock
How to Sell your House Fast – John Cunningham
7 Home Inspection Tips for Sellers – Luke Skar
5 Reasons Your Home Went Back on the Market – Sharon Paxson
Things Buyers and Sellers say that Drive Agents Crazy – Michelle Gibson
___________________________________________________________________________________________________
About the author: The above real estate article "What Are the Closing Costs When Selling a Home?" was written by Petra Norris of Lakeland Real Estate Group, Inc.  With over 20 years of combined experience of selling or buying, she would love to share her knowledge and expertise. Petra can be reached via email at petra@petranorris.com or by phone at 863-712-4207
Are you thinking of selling your home? I would love to share my marketing expertise of our latest marketing techniques with you.
We service the following Central Florida areas: Lakeland, Auburndale, Mulberry, Winter Haven, Bartow, Plant City, Seffner, Valrico, Polk City, Lake Alfred, Lake Wales, Haines City, and Davenport FL.