Are you ready to sell your home?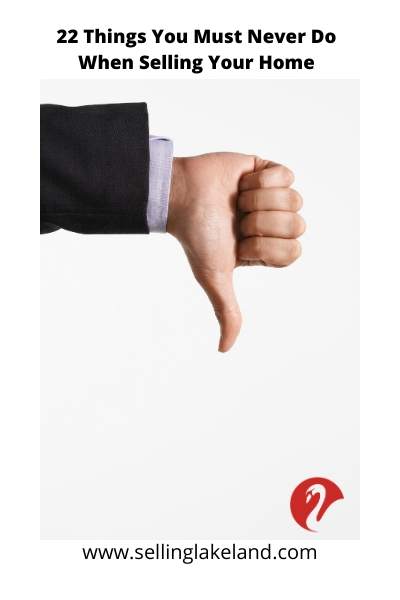 Selling a home is an emotional experience not everyone is quite ready for when they finally make the decision to go ahead with it. Not to mention all the do's and don'ts that come with selling a home, especially if you don't know what those do's and don'ts are.
Do you know all the do's and don'ts associated with selling a home?
Are you sure?
Don't worry! You're not expected to know everything, besides, selling a house is not something you do every day.
The best way to avoid making a monumental mistake is to do a little research on what NOT to do when selling your home. Once you learn what not to do, you will be able to maneuver the sale of your home with ease.
Let's get started…it will be easier than you think—but only if you know how to avoid the mistakes.
22 Tips for What NOT To Do When Selling a Home
1. Pre-Think Everything—First
Before you do anything else, make sure you pre-think the entire process from start to finish first. Then make a checklist of everything you need to do, because once you get started, it's likely to get a bit hectic which makes it easy to forget something or to get off track. For the best results, ask your real estate agent to help you with this.
2. Don't Go It Alone
It might be tempting to try and sell the house yourself; however, even if you have some sales knowledge, a real estate agent will be up-to-date on all the current laws, sales tactics, techniques, and local intricacies that could cost you a sale, or worse. Real estate laws are tricky and if you don't know what you're doing, you could find yourself in court, even after the sale—years down the road; whereas, having a real estate agent who knows the current real estate laws in your area is your best bet for avoiding legalities.
3. Study the Area Housing Market (but not in the way you're thinking)
Yes, your real estate agent will know the area and how to help you price your house accurately. However, it really won't hit home for you until you've done a little legwork yourself.
How?
Well, until you hit the pavement and physically look at the available homes for sale in your area, you probably won't fully understand what you're up against. Therefore, take some time to tour some open houses so you can see for yourself exactly how your home stacks up to the competition. This will also give you some great ideas as to what might need to do to make your home stand out above the rest.
4. Don't Over Improve Your Home
Of course, you want to fix up your home before you put it on the market. But what you don't want to do is to spend money on improvements that won't bring you a return on your investment.
Remember…your home is only worth what the current market can sustain. Meaning, you could completely remodel your house, but if the comps in the area are only worth a certain amount, you might be able to get a little more for your house because of the remodel, but the current market is what dictates the price any given house will ultimately appraise for.
5. Don't Skip the Curb Appeal Step
Before you take any pictures and before you put your house on the market, it's best to spend some time improving or freshening your home's curb appeal. The first impression of your home when a buyer first drives up is extremely important. The first 20 seconds of them arriving will pre-set the tone in their mind about how they are going to feel about your home before they even step foot in the door.
6. Don't Forget To Make Your House Appear Bigger
If you want your house to look bigger than it is and help potential buyers see your home's true potential, you will have to remove everything you don't absolutely need. For example, remove as many clothes from your closets as possible to make your closets look bigger. Remove or move the big furniture so it showcases the space in the best possible way. This will make the rooms look bigger and less cluttered, as well as show a buyer how the room could be used. Go ahead and do this for every room, closet, cabinet, drawer, garage, shed, yard—every single space in and around your home. Not doing this step could cause you to receive lower offers or lose a sale entirely.
7. Don't Sell Your Home—Sell a Buyer "Their" Home
It's best to remove anything and everything that makes your home look like, well, your home. A potential buyer needs to see a blank canvas where they can easily picture their things in your home. Therefore, remove all family photos, taste specific decor, political affiliation decor, favorite team or brand decor, etc. It's also a good idea to freshly paint your home using neutral colors as not to distract a buyer to the point where all they see is a color they don't like and not anything else.
8. Don't Take It Personally
Most people are, to some extent, emotionally attached to their home and have a hard time accepting the criticisms of a buyer or the suggestions of their real estate agent or stager. Take some time to mentally detach yourself from the process. Think about the future and your new home and all the plans you have for it and don't worry about the rest. It's time to move on to bigger and better things!
9. Don't Allow Your Home To Look Lived In
It's important to keep your home looking as if it's not being lived in. That means no dirty dishes in the sink, clothes left out, etc, And anything that's left in your closets, drawers, pantry, etc. should be minimal and neatly folded and/or organized so they look visually appealing. You should also make sure all kid's toys, pet beds/bowls, etc. are also picked up and stored neatly and/or are out of sight completely.
10. Don't Assume Your House Doesn't Smell
Yep. Your house smells even though you can't smell it. Every home has that "lived-in" smell and so does yours. The best way to overcome that lived in smell is to find ways to give your home a fresh scent without over deodorizing it to the point a buyer starts wondering what smells you're trying to hide. There are several ways to do that. Talk with your real estate agent about his/her recommendations for neutralizing the smells in your particular home. It's all going to depend on your situation, such as whether you have pets, cook with pungent spices, you're a smoker, etc. And again, don't take what's recommended personally, every house has a lived-in smell that's just the way it is.
11. Don't Lose Sight of The Big Picture
Just know going into this that you will probably receive some lowball offers and you could even get some unusual or special requests as well. First of all, don't take the lowball offers personally. It's just human nature to try and get the best possible price. Some sellers will jump on a lowball offer so you can't blame the buyer for trying. Just counteroffer with a price that's acceptable to you and either they will accept it, or not. If not, it's their loss, not yours.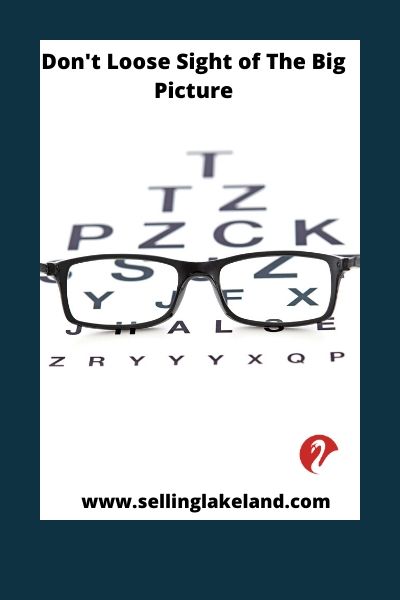 In addition, a buyer might ask you to leave something in the home you previously stated you would be taking with you. For example, the valances, custom fireplace mantle, custom chandelier, etc. Unless it's a priceless family heirloom, consider granting the buyer's request. It's not worth losing a sale over something that could be easily replaced once you get settled into your new home.
12. Make Sure You Are Prepared for The Appraisal
Before you start packing, make sure you have pulled the supporting documents for all your home improvements such as the new roof, HVAC, room additions, or any other interior or exterior improvements. Don't assume the appraiser will see those improvements. Give that appraiser all the information he/she will need to make an informed decision when it comes to pricing your home accordingly. Then, make sure you thoroughly review the final appraisal once it comes in to verify all the facts are correct and that nothing has been overlooked.
13. Don't Forget To Check Your Homeowner's Insurance Policy
Before you let anyone into your house, contact your insurance agent to confirm the coverage is up to date and that what you have is sufficient for what you are doing. Accidents happen, so you want to make sure you're covered.
14. Eight Other Mistakes To Avoid
Don't sign a contract with an unqualified buyer.
Don't ask for more than your house is worth.
Don't skip the staging or the proper marketing of your home.
Don't neglect to fix things that are broken.
Don't take your own photos or skimp on professional photography.
Don't hang around while your house is being shown.
Don't forget to keep a record of all documents and details pertaining to the sale of your home and the entire process.
Don't hide potential problems large or small—ever!
What's Next?
If you would like more information about selling your home and/or buying a new one, please Contact Us today.
We would love to show you just how easy selling your house can be. Why not let us handle all the heavy lifting for you…pun intended!
Other Valuable Resources to Consider
Kevin Vitali surveyed a number of great real estate agents around the world for their opinions and shares them in his article "Hot Insider Secrets" to Sell your Home"
Paul Sian shares his tips on how homeowners can also save money by making sure to avoid fees, refinancing to lower mortgage rates and more as the article explores Tips for Homeowners To Save Money
Bill Gassett is exploring how real estate agents are paid in his article How Much is Real Estate Commission? – Probably the most asked question real estate agents get asked. The commission real estate agents charge is negotiable and depending on the brokerage an agent is with sometimes the agent has the authority to set their own commission.
Sharon Paxson is keeping you focused when selling your home with her article Home Staging Secrets: The Role of a Focal Point
______________________________________________________________________________
About the author: The above real estate article 22 Things You Must NEVER Do When Selling Your Home was written by Petra Norris of Lakeland Real Estate Group, Inc. With over 20 years of combined experience of selling or buying, she would love to share her knowledge and expertise. Petra can be reached via email at petra@petranorris.com or by phone at 863-712-4207
Are you thinking of selling your home? I would love to share my marketing expertise of our latest marketing techniques with you.
We service the following Central Florida areas: Lakeland, Auburndale, Mulberry, Winter Haven, Bartow, Plant City, Seffner, Valrico, Polk City, Lake Alfred, Lake Wales, Haines City, and Davenport FL.