Are you wondering how you are going to pay your next mortgage payment?
Yep! It's a big problem for many right now. And with us not knowing how long it will be until things return to business as usual, people are becoming more and more worried about how they will pay their bills, especially their mortgage.
That's why we decided to provide you with some mortgage payment tips and other ways to get help with your mortgage during the coronavirus pandemic.
We will go over the various options available to you, some insider tips on what to watch out for, and the one thing you absolutely must-do if you accept the forbearance option. If you don't, it could cost you your home.
So let's get started.
Mortgage Relief Tips for Surviving the Coronavirus Pandemic
Here are some mortgage relief tips and suggestions for surviving the coronavirus pandemic.
Pay Your Mortgage If You Can
If you are able to pay your mortgage, it is better to go ahead and pay it rather than accepting assistance that could ultimately get you further behind in the long run.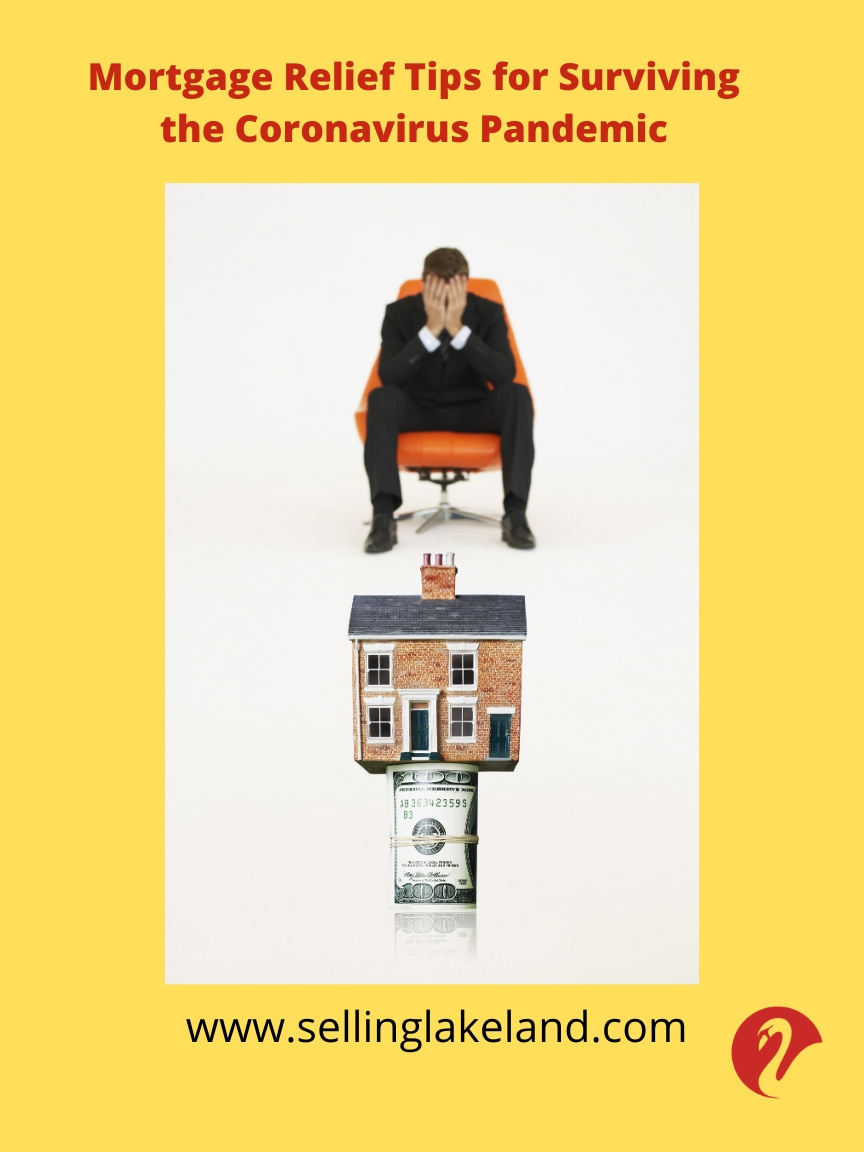 When to Contact Your Lender
If you are not able to pay your mortgage or are only able to pay a portion of your mortgage, then contact your lender immediately. Just remember they are dealing with a high volume of people right now. Therefore, it will probably take some time to get through.
What the Government Is Doing to Help
The government has just enacted a new federal law called the CARES Act. This stands for Coronavirus Aid Relief and Economic Security. This new law provides several mortgage protections for homeowners who have federally backed mortgages. Those protections include:
What this does is prevents your lender from foreclosing on your home for 60 days starting on March 18, 2020. This means your lender is prohibited from the beginning or finalizing any judicial or non-judicial foreclosure on your home during that 60-day timeframe.
The CARES Act provides six months, and in some cases up to a year, of forbearance for homeowners with federally backed loans.
That's great but how do I know if I have a federally backed mortgage loan?
Well, almost half of the mortgages in this country are owned or backed by Fannie Mae or Freddie Mac.
Here are some links you can use to see if your particular mortgage is a federally backed loan. Simply click the links below and follow the prompts to find out.
What if I don't have a federally back mortgage?
In that case, the Federal regulators have stated that they believe non-government lenders will probably go ahead and implement policies that are similar to those that have been mandated by the CARES Act.
WARNING—The forbearance option comes with some risk, which could cost you your home if you don't understand exactly how it works.
The Forbearance Option Explained
There are some confusing points about how the forbearance option will play out going forward. But first, let's go over the guidelines of forbearance, then we'll talk about what you need to look out for when opting for the forbearance option.
Here is a breakdown of the forbearance guidelines.
1. Lenders can't charge any fees, penalties, or interest above and beyond the amounts of your already scheduled mortgage payments.
2. Borrowers don't have to provide proof of financial hardship to obtain forbearance.
3. People who request forbearance due to the coronavirus pandemic cannot be reported to the credit bureaus for nonpayment.
Sounds great, doesn't it? Especially if you can't afford to pay your mortgage.
But wait..not so fast.
What You Need to Know Before Opting for Forbearance
The first thing you need to know is that forbearance doesn't mean you won't ever have to pay those missed mortgage payments. In other words, forbearance is not forgiveness. Not at all. The forbearance option simply means you don't have to pay your mortgage payments during the agreed-upon number of months, but you will have to pay for them—eventually.
The One Thing You Must Ask Your Lender When Requesting Forbearance
Many people are confused and sometimes even mislead, probably not intentionally, but still misled, when it comes to how the forbearance option works and how it will affect their mortgage loans going forward.
Prior to accepting the forbearance option, you MUST make sure you ask your lender about how and when those skipped mortgage payments will have to be repaid.
Why?
Because if you don't, it could cost you your home.
Let us explain…
Your mortgage lender isn't telling you that you don't have to make your mortgage payments because there is a pandemic. They are a business and businesses have to make money to survive just like we do. Therefore, you will have to pay back your missed mortgage payments. But it's how and when you will have to pay back those missed mortgage payments that is in question here and therein lies the problem—a big problem! So pay close attention to what we have to say next.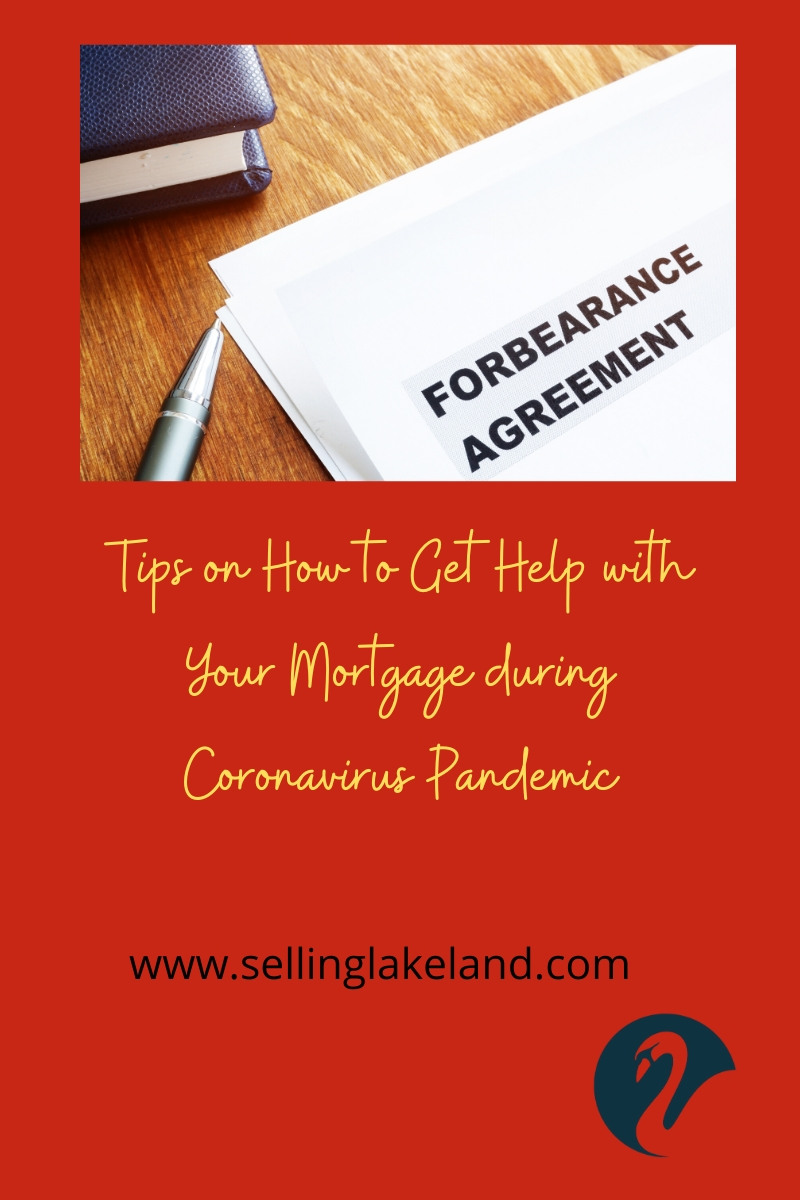 There are a few different possible repayment scenarios:
The lender will require you to begin making your full mortgage payments immediately after your forbearance period has ended. Then, that lender might insist you make your skipped mortgage payments all in one lump sum at the same time.
The lender could ask you to begin making your full mortgage payments plus making an extra monthly payment for the mortgage payments you skipped during the forbearance period.
Forbearance Nightmare Examples (but keep reading because it does get better after this)
Here are a few examples to shed some light on how a forbearance repayment scenario could play out.
Let's say you have a monthly mortgage payment of $2,000 and that's what you have budgeted.
Suddenly…you start hearing about a virus in China and you think to yourself "Yeah, yeah, yeah, I've heard all this before." A few weeks later, one person in Washington gets this virus and a week later it's spreading like wildfire. The people at work are now starting to talk about possible layoffs. Then the unthinkable happens—you are the one being laid off effective immediately.
Bam!
No job, no money, and no answers in sight. And not only that, but you now have to also worry about contracting this extremely contagious virus.
So you immediately contact your mortgage lender and he/she tells you not to worry that there is now a forbearance option. Whew! What a relief. But what you don't know about this forbearance option could cost you your home.
Let's take a look at a couple of scenarios when it comes to the forbearance option.
Scenario #1:
You contact the lender to request a six-month forbearance on your mortgage loan.
After seven months you are called back to work, but all your savings were depleted while trying to survive during the pandemic.
Suddenly, your lender informs you that your forbearance has expired and you now owe a $12,000 lump sum to pay back your skipped mortgage payments, plus your normal $2,000 monthly mortgage payment. That means you now have to come up with $14,000 and you don't have any savings left and you just started back to work.
Scenario #2:
After seven months you are called back to work, and just like the above scenario, all your savings have been depleted.
You contacted your mortgage lender and explained that you can't pay back your skipped mortgage payments in one lump sum and want to find out if there are any other options.
The lender graciously says yes. He/she then proceeds to tell you that you can spread out that $12,000 over a period of 12 months. OK, that sounds good…but wait…you can't afford that either!
These are both very real scenarios that could cost you your home if you don't understand how forbearance works and are not fully prepared for what's to come.
THE MESSAGE HERE:
PLEASE, PLEASE, PLEASE MAKE SURE YOU FULLY UNDERSTAND WHAT YOU ARE AGREEING TO WHEN CHOOSING THE FORBEARANCE OPTION. AND THAT YOU ARE PREPARED AND KNOW EXACTLY HOW YOU WILL REPAY ALL THOSE SKIPPED PAYMENTS; OTHERWISE, YOU COULD ULTIMATELY LOSE YOUR HOME!
Light at the End of the Rainbow
Whew! That's a lot of negative information to take in. But we do not want to leave it at that. The reason for bringing all this to your attention is so you are aware of what your forbearance entails. And to make sure you are prepared to handle the repayment of those skipped payments once your forbearance period has ended.
So here are some options for you if you can't afford to repay your skipped mortgage payments. Regardless of whether that means you can't afford to pay back your skipped mortgage payments all in one lump sum. Or if you can't afford to repay your skipped mortgage payments as an added payment to your regular monthly mortgage payments.
Consider this…
If you are not in a position to repay your skipped mortgage payments, rather than lose your home, you might be better off adding those payments to the end of your loan. That is, if you are in a position to do this and if your lender will approve this option for you.
If not, you might want to talk with your lender about opting for a loan modification. This would involve extending the term of your original loan, which, in turn, would lower your monthly payments.
This would be better than losing your home…right?
We are all going to have to do things we normally wouldn't do. Heck, who would have ever thought we would be asked to stay at home, not go to work, and to stay far away from our family and friends for an undetermined amount of time?
These are extraordinary times that call for extraordinary measures!
But…we will get through this!
How do we know that?
Because we are all American's and that's what we do.
Be well and stay safe from our family to yours!
What's Next?
If you have questions or would like information about buying or selling a home during the coronavirus, please Contact Us today. Lakeland Real Estate Group has a team of experts who have the tools and experience necessary to help you buy or sell a home while practicing social distancing and beyond.
FRIENDLY REMINDER:
PLEASE, WHATEVER YOU DECIDE TO DO, BE CAREFUL AND CONSIDER EVERY OPTION CAREFULLY BEFORE TAKING THE FORBEARANCE OPTION. AND, IF YOU HAVE THE MEANS TO PAY YOUR MORTGAGE, IT IS BETTER TO GO AHEAD AND DO SO AS YOU NORMALLY WOULD RATHER THAN POSSIBLY GETTING INTO A SITUATION YOU MIGHT NOT BE ABLE TO RECOVER FROM LATER.
WE KNOW IT'S TEMPTING TO HAVE A LITTLE EXTRA MONEY RIGHT NOW, BUT THIS IS NOT MEANT TO BE "FUN" MONEY. THIS IS AN EMERGENCY SAFETY NET THAT SHOULD ONLY BE USED BY THOSE WHO TRULY DON'T HAVE THE MONEY FOR THEIR BASIC NEEDS.
Other Resources To Consider During a Pandemic
In this informative article, Xavier De Buck describes some of the etiquette buyers and sellers should know during Coronavirus time, covering issues such as washing hands, social distancing when visiting homes, wearing mouth masks, etc. when selling and buying homes.
If you need to sell your house now, what virtual practices should you use to make sure you, your family, and potential buyers stay safe in the process? You'll find tips in this article Should I sell my home during the Coronavirus?
While you probably feel like timing with the current pandemic isn't on your side, making a move is still possible. This article What If I Need to Sell My Home Now provides you some insightful tips.
About the author: Tips on How to Get Help with Your Mortgage during Coronavirus Pandemic was written by Petra Norris of Lakeland Real Estate Group, Inc. With over 20 years of combined experience of selling or buying, she would love to share her knowledge and expertise. Petra can be reached via email at petra@petranorris.com or by phone at 863-712-4207
Are you thinking of selling your home? I would love to share my marketing expertise of our latest marketing techniques with you.
We service the following Central Florida areas: Lakeland, Auburndale, Mulberry, Winter Haven, Bartow, Plant City, Seffner, Valrico, Polk City, Lake Alfred, Lake Wales, Haines City, and Davenport FL.