Unfortunately, it seems you and your spouse are at an impasse and have decided to file for divorce and part ways.
But wait…
You purchased a house together.
Now what?
Well, unfortunately, the home selling answer is not cut and dry. The answer to this problem will depend on many underlying factors. But one thing is for certain and that is that everyone and their brother will be giving you advice whether you ask for it or not.
When it comes to a divorce, home selling takes on a whole new meaning. And due to the heightened state of emotions during this trying time, making a rational decision, or a decision based on what your well-meaning friends are telling you can be challenging.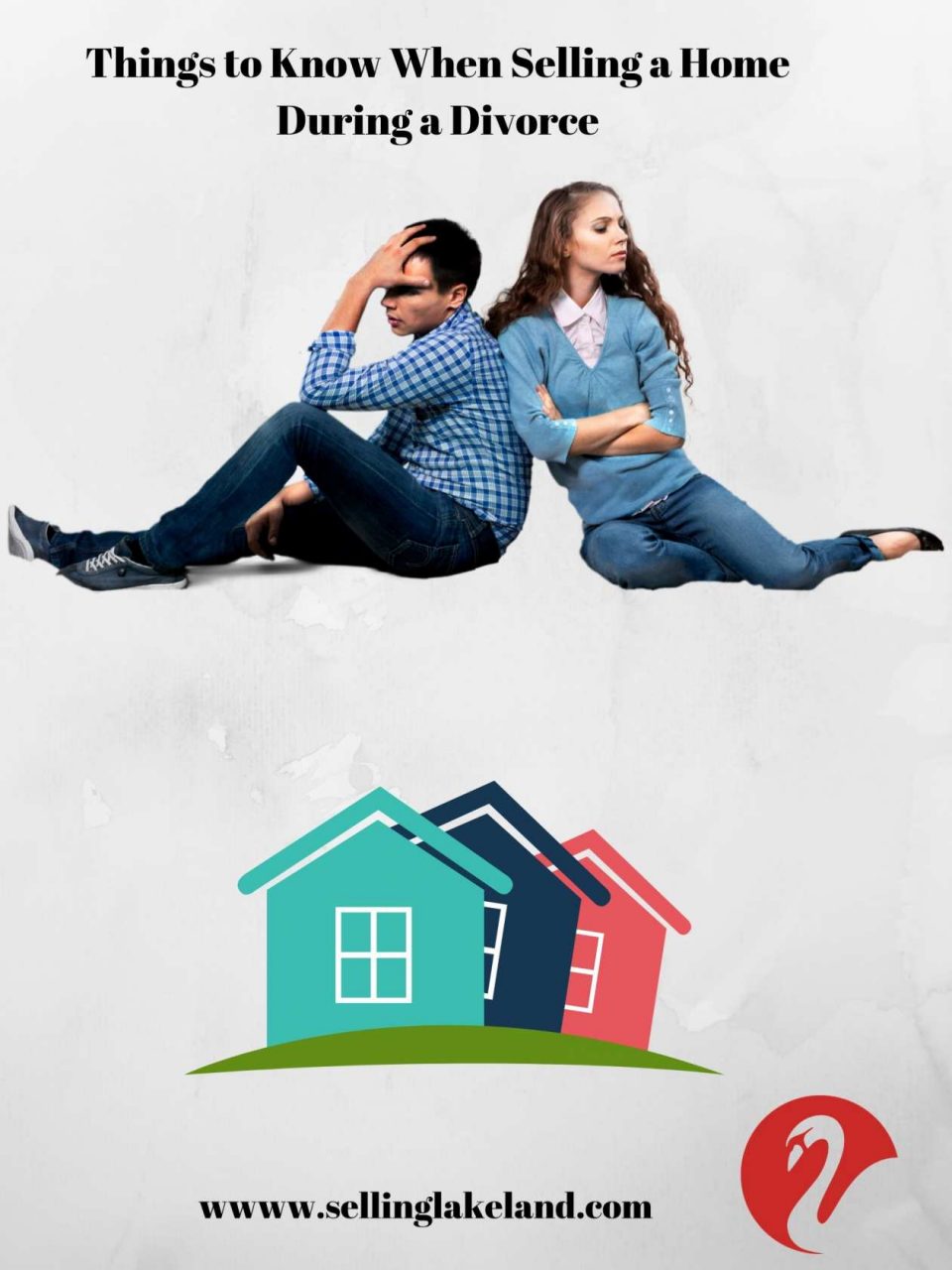 What should you do? Who should you listen to? And how in the world with all that "advice" flying around will you ever really know that if what you are doing is truly the best thing for you and your particular situation?
Simple!
You stop listening to what everyone is telling you and take the time to perform a little research. That will tell you everything you need to know and give you enough information to make an educated decision about what is right for you versus an emotional decision based on your current state of mind.
Disclaimer: Before we get into the research on this topic, please note that I am not an attorney or tax professional. Therefore, I recommend you talk with your attorney and a tax professional about what you learn here today before making any final decisions about your house.
OK, so let's get started on that research.
The Inevitable and Endless String of Questions Rolling Around in Your Head
There are different factors that come into play when you have a house and are getting a divorce.
Should you sell the home?
Should you buy out your spouse?
Should you keep the house until your kids finish school?
Should you wait for a better time of year to sell your house?
Should you both continue living in the house after the divorce because all other housing options are too expensive?
What should you do if you want to sell, but your spouse doesn't?
And on, and on, and on!
You could technically come up with a million reasons, as well as to-do's and not to-do's. But the reality is you have to do something. You will at some point have to make a decision about how you are both going to handle that house when it comes to your divorce.
But whatever you do, try not to let your emotions get the better of you. If you can both keep a level head, remain civil and amicable, the chances are much better that this situation will work out to benefit you both more equally and with a lot less stress than if you don't.
Should You Sell Your Home Before, During or After Your Divorce?
The first obvious question is should you sell the house or finalize your divorce first? If you sell the house before you get your divorce, you will both split the profit. If you sell the house after your divorce, the person who was awarded the house will get to keep the house and the profit if and when it is sold.
Here are some issues related to the different scenarios that will help you weigh your options.
➣Selling Before Your Divorce
You will get a higher tax write off.
You will both get an equal share of the profit and neither of you will have to give up something else in exchange for keeping the house.
You will be able to move on from the relationship faster once the divorce is final.
➣ Selling During Your Divorce
You should hire a real estate agent you both trust.
You will both have to mutually agree to sell the home and split the profits.
You won't be stuck in limbo waiting to finalize your divorce.
If you move out, you will probably have to pay to have your home prepped and staged.
You will have to continue making the mortgage payments until the house sells. This could leave you with having to pay for two places at once.
Consider asking your attorney to draw up a Separation Agreement that states how the mortgage and other bills will be paid until your home sells and the divorce is final. This will help prevent any problems that could arise if one of you disagrees about an issue going forward.
If one of you moves out and the other remains in the house until the divorce is final, both of your names will remain on the mortgage and title until the home is legally recognized by the divorce as belonging to one or the other. This is true even if your spouse obtains a court order giving them exclusive rights to use the property during the divorce.
➣ Selling After Your Divorce
Waiting to sell might bring you a higher return on your investment because, generally, property values rise over time.
You won't have to concern yourself with the hassle of selling your house while you are dealing with the details of your divorce.
You will still have somewhere to live until the divorce is final versus having to rent an apartment or camp out on a friend's couch.
Buying Out Your Spouse Versus Selling Your Home Outright
While selling the house and splitting the profits sounds like a good option, you or your spouse might have some valid reasons for wanting to retain the home. However, just like anything else, there are pros and cons to everything.
➣ Pros:
The house might be close to your job, the kids' school, friends and family, etc.
You won't have to relocate and go through the hassle of finding and moving into a new place.
Your kids won't have to be enrolled in a new school in another school district, not to mention having to make all new friends.
The house could appreciate in value over time.
➣ Cons:
Refinancing the house after buying out your spouse is more complicated than just selling it.
If there is equity in the home, you and your spouse will have to agree on how to split it fairly. This is because of the underlying factors such as what the remaining balance is on the existing loan and the other's ability to take out a new loan in enough money to buy the other one out, etc.
The person wanting to retain the home might not be able to afford the monthly payment by themselves after refinancing.
The best way to proceed when you are buying out your spouse's share of your current home after a divorce is to refinance it so that everything going forward is clear-cut and legally enforceable under the law. This will prevent the potential for problems going forward.
The last thing you want to do no matter how well the two of you get along is to have a verbal agreement about who, what, where, when, and how you manage the house and all associated housing issues. Everything might seem as if it would be OK to do this, but one little disagreement could change everything. Besides, one little disagreement that ballooned into a major issue is probably why you decided to get a divorce in the first place…right? Enough said!
Divorce House Buyout Taxes
When buying out a spouse, the selling partner won't have to pay any capital gains tax. This is because the sale was assigned as part of the divorce. However, if you buy out your spouse, then decide to remain in the home and sell later to a third party, in that case, capital gains tax will apply to that sale. You can, however, exclude the first $250,000 of gain on the sale, but only if you have lived in that house for at least two years before selling. There are some exceptions to that rule so it is best to refer to the IRS rules regarding those exceptions.
NOTE: I am not a tax professional. This content is intended for informational purposes only. Please talk with a professional about all tax-related issues.
Other Possible Options to Selling Your Home After a Divorce
If both you and your spouse love the house and don't really want to sell it even though you are going to be divorced, then you might have to come up with some creative ways for both of you to benefit without selling the house.
1. Divide Your House In Two
With this option, you both get to keep a piece of the house. This can be done by adding a divider wall down the middle or making each story of the home into a separate apartment. Just make sure you have something legally drawn up and in writing confirming the legalities of your situation to help avoid any potential problems later.
2. Co-Own the House
Just because you are divorced doesn't mean you can't co-habitat as roommates. This option would be a viable solution for those with kids because you would both be able to spend equal time with them and won't have to uproot them in the midst of this life-changing event.
3. Setup a Timeshare Schedule
For this option, you could rent a two bedroom apartment and outfit it to suit both of you. Then you would each have a set amount of time you spend in the house and an equal amount of time you would have to spend in the co-leased apartment. This is another option that would be perfect for those with kids. It would also allow both of you to enjoy the benefits of your beloved home and still have the added benefit of growing your equity share in the home you both spent so much time paying into and improving on over the years.
4. Turn It into a Rental
In a buyer's market, it might be better to turn your house into a rental rather than lose money selling it. This could be an extra income source for both of you. Simply rent it out and split the profits, and, it has the added benefit of growing the equity in your home over time. If the two of you don't get along very well, you could enlist the help of a Realtor or property management company who could take over the day to day operations for you for a small percent of the monthly rent.
What to Do If One Spouse Won't Cooperate
It's amazing how quickly things can get ugly, especially if one spouse refuses to cooperate. But hopefully, when you first separated, you had the wherewithal to sign a Separation Agreement that spelled out exactly how things were going to take place. Who was legally allowed to live in that home and for how long, who was responsible for paying for what, when the house was to be sold, and exactly how the selling costs were to be split up between both parties. The Separation Agreement is a legal binding document that will give you recourse if your spouse decides not to cooperate.
If you didn't, in the case of those who are divorcing or are already divorced, a court-ordered sale is the normal process to force the division of real property. Your attorney should be able to better explain to you how this process works.
The Bottom Line
Our hearts go out to you if you are currently going through or are thinking about getting a divorce. And we feel that by being a solid source of unbiased information and helping you with how to approach one of your biggest assets, is the best way to help you get through it.
Deciding whether to sell your home before, during, or after your divorce, or deciding not to sell it at all, is probably going to be the hardest decision you will have to make aside from trying to do what's best for your kids. So hang in there, don't let your emotions get the best of you and know that there is light at the end of the rainbow.
What's Next?
If you are dealing with a divorce and have a home, please Contact Us today. We would love to do everything in our power to make dealing with your home a quick and painless process.
Lakeland Real Estate Group specializes in helping home buyers and sellers in the Lakeland and surrounding areas maneuver the real estate process to obtain the best possible outcomes for their specific situations.
Other Valuable Resources to Consider
The 14 Most Common Maintenance Pitfalls When Selling a Home – sellinglakeland.com
How to Converting your Primary Residence to a Rental Property – Luke Skar
How to Hire a Real Estate Agent in Divorce – Bill Gassett
About the author: The above real estate article "Things to Know When Selling a Home During a Divorce" was written by Petra Norris of Lakeland Real Estate Group, Inc. With over 20 years of combined experience of selling or buying, she would love to share her knowledge and expertise. Petra can be reached via email at petra@petranorris.com or by phone at 863-712-4207
Are you thinking of selling your home? I would love to share my marketing expertise of our latest marketing techniques with you.
We service the following Central Florida areas: Lakeland, Auburndale, Mulberry, Winter Haven, Bartow, Plant City, Seffner, Valrico, Polk City, Lake Alfred, Lake Wales, Haines City, and Davenport FL.