Ahhh, curb appeal, you frequently hear that term, but what does it mean and does it really matter when selling a home?
Yes! Curb appeal matters! It matters a lot!
OK, so what is curb appeal?
What Is Curb Appeal?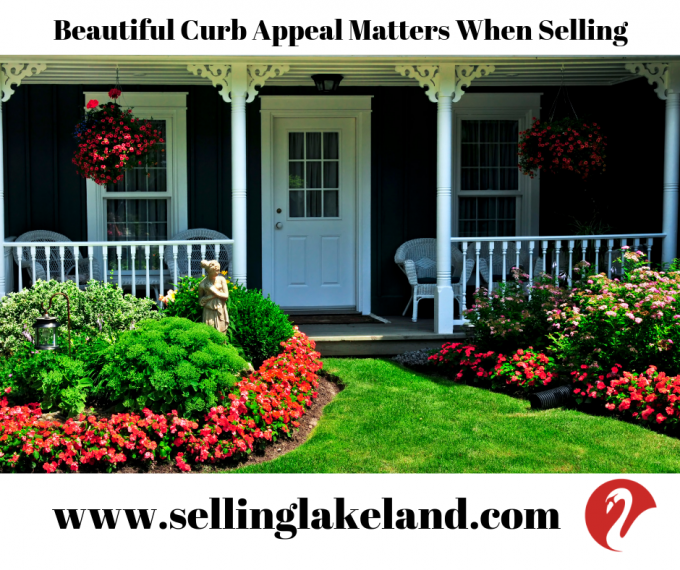 I'm sure you heard about the benefits of home staging when selling a home which is primarily the inside of the home. Curb appeal is the visual appearance of your house as seen from the street. This refers to the entire exterior view which includes your home's exterior, the fixtures, landscaping, mailbox, sidewalk, driveway, etc. Even the smallest of details can mean the difference between great curb appeal and a negative distraction that could ultimately cost you the sale.
WOW! That sounds a little dramatic!
Yes, it does. But you never know what minor little detail could turn a buyer's first impression of your home into a no-go. It could be something as simple as a dirty old trash can placed where it can be seen from the street. Anything! You just never know what will make someone, who is probably already anxious about buying a home anyway, decide they don't like your home before they even step foot in the door.
Why Does Curb Appeal Matter When Selling a Home?
Curb appeal matters because if you can't immediately get a potential buyer's attention, you lose the chance to make a sale. Why? Because if a buyer doesn't like what he/she sees from the outside, they won't bother going inside.
So exactly how do you go about designing curb appeal for your home that will be appreciated by everyone? Well, you don't. But you should try to do as many things to your curb appeal as you feel would be appealing to the most people.
OK, so how do you do that?
That's easy! You create emotion and memories!
What? How do emotions and memories help with curb appeal?
First, you need to step back and look at your home. What pops out at you? Does what you see strike any emotions or bring up any memories—current or from the past? Selling a home is all about creating memories for your potential buyers. A buyer needs to be able to see themselves creating new memories in your home. If they can't, they will move on to another home where they can. You can begin by helping your home trigger an emotional response with potential buyers.
This means you need to design your curb appeal in a way that will trigger emotion and help a potential buyer see themselves living there. This can be done quite easily if you take the time to think it through.
For example:
➣ You can add a bench or swing to your front porch or to a localized spot in your yard. This helps a buyer see themselves sitting there enjoying that bench or swing.
➣You could add a seasonal decorative flag to your yard or flowerbed, etc. This could help trigger happy emotions and/or memories of the festive season.
➣ You could add a welcome wreath to your front door, so before that potential buyer even enters your home, they have a warm fuzzy feeling, even if it's a subconscious feeling, that they are truly welcome there. And that will automatically give that potential buyer a positive impression of your home—one that will generally have that buyer in a positive frame of mind and feeling good about perhaps buying your home as they enter.
This, rather than having a negative feeling they can't quite describe, but that makes them not feel good about your home, but they don't really know why.
Have you ever had that feeling? I'll bet you have. I'll also bet that that feeling greatly affected your opinion of whatever it was that gave you that feeling. Right?
Stop right now and take a few minutes to look at your home from a distance and make some notes about what you see. What looks good and what doesn't look good? What looks good, but needs to be refreshed? For example, a new front door mat, painting either the entire home or perhaps just the trim. Do you need a new mailbox and house numbers? What about maybe painting the driveway? How does the front porch light look? Does it need to be replaced? What about your front door knob? Is it worn and maybe even feels gross when you touch it? If so, replace it.
OK, you get the picture. Look at everything with fresh eyes as if it were you considering the purchase of your home. You can also ask friends and family for their input. The more eyes and opinions you get, the broader the appeal. And this could quite possibly mean receiving higher offers for your home because it will be perceived as being of higher quality based on a great first impression.
So, now what do you think? Is curb appeal really all that important when selling a home?
You bet it is!
OK, now that we have that settled, we are going to give you the top 10 curb appeal tips for selling a home.
The Top 10 Curb Appeal Tips When Selling a Home
Some of these tips can be easily implemented and some of them will require a little more work than the others, but it will all be worth it in the end. Guaranteed!
1. Dress to Impress so to Speak
The cleaner your home's exterior and curb appeal are, the better first impression you will make.
Powerwash your brick/siding/driveway, etc.
Clean your porch lights, doors, kick plates, windows, screens, sills, gutters—everything!
Rake up all leaves, trim all trees and bushes, and clean out underneath them as well.
Repair any broken fencing and paint or stain the front of your fence if needed.
If your roof vents are visible from the street, consider replacing them with nice new ones. This will give your home the appearance of being newer and in better shape.
You might also consider buying a new welcome mat and perhaps some new pots with seasonal colorful flowers.
Plant some of those same colorful flowers around your mailbox to help draw the eye in from the street to your front door.
Install some window sill planter boxes to help give your home a warm and inviting feeling.
Add some fresh new mulch around your tree rings and under your bushes. This does wonders for your curb appeal as well.
If at all possible, replace your windows and screens. Nothing ages a house more than old windows and ripped, dirty screens.
2. Install Slate Tiles
Consider covering up the ugly concrete on your sidewalks and porches with some decorative natural slate tiles. This will give your home a nice warm, natural look as your buyers approach.
3. Hide A/C Units and Trash Cans
If your A/C unit or trash cans can be seen from the street, consider hiding them, and or enclosing them with some decorative fencing. You can use a nice white vinyl fencing with the decorative trellis top cap or anything else that matches your house. Then you could plant some inexpensive but nice looking foliage or shrubs in front of them.
4. Add Window Shutters
Exterior window shutters make your home look more trimmed out, which, in turn, makes your home look more expensive. Window shutters also help draw the eye towards your home and can make your home look newer than it really is. That's because the shutters will be new giving your home a newer more well-kept appearance.
5. Paint the Entire Exterior
Nothing adds value to your home more than a fresh new paint job. This goes for the inside of your home, as well as the outside. Painting your home will generally bring you a higher return on your investment because your home will have a fresher, newer, look to it. And, in a buyer's mind, that's one less thing they will have to do because it won't need to be repainted again for a very long time. This also means a potential buyer will be seeing dollar signs as they add up the value of your home in their mind.
6. Replace the Garage Door
This might sound extreme; however, nothing will make your home look unkempt, more than a home with great curb appeal and an old garage door, especially if your garage in on the front of your home. An old garage door will stick out like a sore thumb when everything else surrounding it looks beautiful. If you can't replace your old garage door, go ahead and paint it. Painting it would be better than doing nothing at all.
7. Keep It Simple
The last thing you want is to add things to your curb appeal that will distract from your home. That means less is usually better. Adding too much of anything, such as flowers, landscaping, porch or yard decor, etc. will distract from your home and could ultimately have the opposite effect than you intended.
8. Symmetry Is Important
It's best to keep everything looking symmetrical if at all possible. For example, if your porch is large enough to have a cushioned bench, make sure that cushion is set neatly in place versus being disheveled,  crooked, and falling off. If you have rocking chairs on your porch, make sure they are all placed neatly in line. Sometimes even the smallest little touches can make a huge positive mental impact in a buyer's mind.
9. Stay True to the Character of the Home
If you have a modern built house that's embellished with modern features and trim, don't try to make your home something it's not. For example, don't try to make a modern-day home with modern day materials look like a distressed old 1900s home or farmhouse. The two periods will clash and you might unintentionally alienate potential buyers. Why is that? Because a buyer that's looking to purchase a home in a modern neighborhood isn't generally going to want one that looks like it's from another era. If they wanted that type of home, the buyer would have looked for an authentic one to begin with. Most buyer's don't want their home to be the only one on the block that sticks out or seems out of place.
10. Clean or Replace Your Roof
Obviously, a new roof is a huge selling point for most buyers. But if your roof isn't all that old, replacing it would not be practical. However, regardless of how old your roof is, it doesn't take much for it to become stained and dirty which will make it look older than it is and you don't want that.
So go ahead and have a professional powerwash your roof to remove all the mold, mildew, stains, dirt, and other debris. One word of caution though, make sure you don't attempt to do this yourself and make sure whoever you hire has the knowledge and experience to do the job properly. This is because powerwashing uses high-pressure water and chemicals to clean your roof. And if you don't know exactly what you're doing, it could damage the shingles, the roof, gutters, break windows, damage landscaping, bore holes through siding, etc. not to mention voiding the roof's warranty if it's not done properly. The damage possibilities are endless, so be diligent in researching the company you hire to powerwash your roof. The last thing you want right before you put your house on the market is to have to unexpectedly replace the roof because of a rookie mistake.
Other Valuable Resources for Curb Appeal
How to Improve Curb Appeal in 8 Simple Steps – Sharon Paxson
Summer Curb Appeal Tips: Turn Ordinary into Extraordinary – Luke Skar
6 Major Landscaping Mistakes to Avoid – Xavier De Buck
Shade Gardens that Inspire – Eileen Anderson
How to Sell a House on a Busy Street – Bill Gassett
Home Selling Tips for Picture Day – Michelle Gibson
Does Your Home Have Curb Appeal – Anita Clark
What's Next?
If you are thinking about selling your Lakeland, FL home and would like some curb appeal ideas or anything else, please Contact Us today. We would love to provide you with honest opinions for valuating and selling your home quickly and for top dollar.
We also offer a free Seller's Guide that will make selling your home a whole lot easier.
__________________________________________________________________________________________________
About the author: The above real estate article "Top 10 Curb Appeal Tips When Selling a Home" was written by Petra Norris of Lakeland Real Estate Group, Inc.  With over 20 years of combined experience of selling or buying, she would love to share her knowledge and expertise. Petra can be reached via email at petra@petranorris.com or by phone at 863-712-4207
Are you thinking of selling your home? I would love to share my marketing expertise of our latest marketing techniques with you.
We service the following Central Florida areas: Lakeland, Auburndale, Mulberry, Winter Haven, Bartow, Plant City, Seffner, Valrico, Polk City, Lake Alfred, Lake Wales, Haines City, and Davenport FL.