Selling and buying a house can be a stressful time, especially when the closing process doesn't go along as planned. But don't worry, there are common reasons for closing delays, most of which just require a little time and patience to resolve.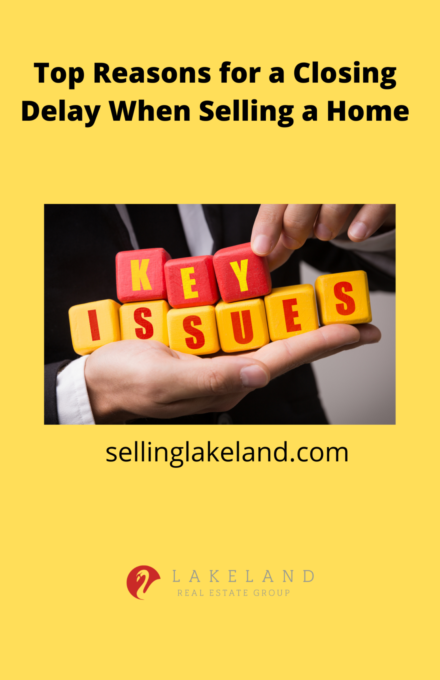 So what are the most common reasons a closing would be delayed?
Let's talk about that. Doing so will help you understand what could happen and what you and your real estate agent need to do to keep things moving forward.
Here are the top reasons we give when people ask: "What are the most common reasons for a closing delay when selling my home?"
1. Appraiser Demand
The housing market has been in a whirlwind the last few years. So the number of appraisals needed has created a supply and demand problem. When there are significantly more appraisals needed than there are appraisers to perform them, a backlog occurs. This can result in a delay in the appraisal process. And depending on the number of home sales in your particular area, the delays can sometimes be lengthy. Unfortunately, when the delay of closing is caused by appraiser demand, there isn't really anything that can be done to remedy the situation except wait.
2. Request for Additional Documentation
Everyone's financial situation is different. After reviewing your creditworthiness, mortgage companies commonly request additional information and documentation. It's at this point, mortgage companies must confirm your financial information meets their criteria for mortgage approval. And if the information you submitted isn't enough to approve your application, you will be asked for additional documentation. The best way to avoid a long delay is to get preapproved for a mortgage before submitting an offer.
3. Issues with the Home Title
Sometimes the title search comes back with previous property liens or other issues. This is a common cause of closing delays. These are the types of issues that will have to be worked out before the mortgage approval process can proceed. The best way to avoid this type of delay is for the seller to be proactive when it comes to paying off any debts associated with the house by having a real estate attorney review all related documents for any red flags. These proactive measures should be taken before the seller puts the house on the market.
4. Home Inspection Repairs
A home inspection is usually done early in the home selling process. Problems arise when requested repairs uncovered by the home inspection aren't completed in a timely manner. This is another common cause of a closing delay. That's why it's so important to have an experienced real estate agent. Your agent will keep on top of these things to make sure everything moves along as quickly as possible while keeping you informed about any potential delays.
5. Major Home Inspection Defects
We just talked about home inspection repairs, delaying the closing process. But there is another issue that could also delay the closing process and that's when the inspection shows serious home defects. When this happens, the buyer can back out of the sale based on those defects.
However, if the buyer chooses to proceed with the purchase, he or she will need to negotiate with the seller about having those defects corrected; otherwise, the mortgage company won't approve the loan. And depending on how severe those defects are, having them repaired will delay the closing for an indefinite period of time.
6. Low Home Appraisal
Your home will have to be appraised as part of the mortgage process, as well as for tax purposes. But sometimes a home will appraise for a lower market value than what was agreed to in the contract. When this happens, the mortgage company will only approve a mortgage for the home's appraised value.
In this case, either the seller will have to lower the price of the home, or the buyer will have to put enough money down to cover the difference. Needless to say, if this happens, it could delay the closing while the details of a low home appraisal are worked out.
7. Unrealistic Closing Date
Sometimes a particular seller or buyer might want a quick close as a condition of the sale. Therefore, the real estate agent might submit the requested quick closing date knowing that it's realistically not possible. Generally, it takes between 45-60 days for a home sale to close. The best way to avoid this issue is to use an experienced real estate agent, one who knows it's better to be upfront and realistic about the closing date, regardless of how insistent the opposer is.
8. Lack of Homeowner's Insurance
If you are depending on a mortgage to purchase a home, you will be required to keep homeowner's insurance on that home until it's paid off. The cost of homeowner's insurance largely depends on the purchase price of the home. If you want to avoid closing delays, a buyer should start shopping for homeowner's insurance immediately after the contract is signed.
A good real estate agent will know this and prompt the buyer to start searching for a homeowner's policy that fits within their budget. Generally, a lender will require a copy of the active homeowner's insurance policy at closing. If the buyer doesn't have an active homeowner's policy in place, the closing will be delayed.
9. Contract Contingencies
Many buyers include contingencies as a condition for buying any given home. And one of the most contingency used is that the buyer will need to sell his or her home before closing on the new home. If the buyer can't sell their house before the date agreed upon in the contract, the buyer can either back out of the deal or delay the closing date until their home does sell.
The seller can help protect themselves by adding a kick-out clause to the contract. This simply means the seller can continue to look for a buyer who is able to purchase their home now and kick out the current buyer if they find a more suitable one. The current buyer then has the option of removing the contingency and continuing with the sale; otherwise, the seller can back out of that contract.
10. Final Walkthrough Issues
The buyer and their real estate agent will together perform a final walkthrough of the home prior to the closing. However, if any defects or uncompleted contingencies are found, this could delay the closing. A good real estate agent will be on top of this and do everything in their power to make sure that doesn't happen.
11. Buyer Doesn't Have the Full Down Payment
Sometimes, for whatever reason, the buyer doesn't come up with the down payment required by the mortgage company to close on that home. When this happens, it can cause significant delays. The buyer might have a legitimate reason for not having the funds, and those reasons might even be out of his or her control. Regardless of the reason, this will delay the closing.
12. Buyer Doesn't Show Up for the Closing
It's rare, but there are times when the buyer doesn't show up for the closing. When that happens, the seller has the right to terminate the contract and re-list his or her home for sale or award the contract to another interested party.
13. Buyer's Loan Is Denied After the Clear to Close
Again, this is rare, but the closing can be delayed or even canceled altogether by the lender. After a mortgage has been deemed clear to close, the mortgage company will update the buyer's credit and re-verify the buyer's employment status one final time. If either of these verifications no longer meets the requirement for loan approval, the closing could be delayed or canceled depending on how severe the issues are.
14. Instrument Survey Issues
Boundary line and encroachment disputes can arise even if the house in question has been bought and sold many times. Fencing, walls or property lines can become an issue at any time. This could result in a delayed closing until all the parties involved come to an agreement and settle the discrepancies with signed affidavits.
15. Home Isn't Insurable
If the seller submitted a major insurance claim on the home for things such as mold or water damage, that would show up on the insurance records. This could cause another insurance company to refuse coverage because they might view that home as too much of a risk.
When this happens, a buyer won't be able to purchase that home unless he or she is paying cash for it. All mortgage companies require a buyer to carry homeowner's insurance until the mortgage is paid in full. But even if you are paying cash for a home, it's a really bad idea to not have homeowner's insurance, because as you know, anything can happen. So, obviously, if this happens, the closing would be delayed or potentially canceled.
16. Seller Decides to Back Out of the Deal
It's easier for a buyer to back out of a real estate deal than a seller. The buyer only stands to lose his or her earnest money and any other money put out for inspections and other closing costs. However, while a seller can renege on selling their house to any given buyer unless he or she has a clear legal right to do so, it can be legally costly due to the possible penalties they might suffer.
Sellers can renege for many reasons, such as:
They receive a higher offer from another buyer
The property appraisal is for more than what the buyer offered in the contract
Family disagreements about the house in question
The seller loses a job
Family member death causing financial difficulty in moving
Regardless of the reason for the seller backing out of the contract, this could delay the closing until everything is ironed out. And if a suitable resolution isn't met, the closing could be canceled altogether.
17. Bank Proceeds Aren't Received
Before the closing can be finalized, all proceeds must be received by the closing agent. In this case, the finalization of the closing will be delayed until all funds have been received.
18. Payoff Figures Don't Match
Sometimes human error or misinformation can cause a closing delay. All the paperwork, including the payoff figures, must match and not be disputed; otherwise, the closing will be delayed until everything is straightened out.
19. No Identification Presented
All parties must present the proper identification at closing. If either the buyer or the seller doesn't provide proper identification, the closing could be delayed.
20. Discrepancies Between the Good Faith Estimate and the Closing Statement
Just like everything else, all the paperwork and figures must match. If there are large differences between the closing statement and the good faith estimate, the closing could be delayed until the issue has been resolved.
21. Mother Nature
If you live in Florida, you will understand the phrase "Only in Florida," although technically this could happen to any hurricane-prone state. Unfortunately, when a hurricane is forecast and approaching an area, insurance companies will stop insuring new properties until the danger has passed. If this happens, it could delay the closing.
22. Tenant Hasn't Moved Out
If the home you are selling or buying is occupied by renters who refuse to move, this could delay the closing of the home. You will have to delay the closing until all eviction proceedings have been completed.
Most Common Causes for Closing Delays in Florida and Their Percentages
According to FloridaRealtors.org, most home sales are completed on time, but out of those that are delayed, one in three or 29 percent have an issue with the financing. And about one in four home sales or about 23 percent are delayed due to an appraisal issue.
Here are more statistics from FloridaRealtors.org.
About six percent of home contracts are terminated completely due to the following issues:
11% were appraisal issues
10% were problems obtaining financing
9% were home inspection and/or environmental issues
Of the contracts that did ultimately close but were delayed, the most common issues for the delays were as follows:
29% were financing issues
23% were appraisal issues
13% were deed or title issues
12% were environmental or home inspection issues
5% were contingency related issues
2% were buying or selling issues due to a distressed property
2% were issues with obtaining insurance due to home, flood, or other hazards
2% were due to buyers who lost their job
13% were due to other underlying factors
What's Next?
If you are thinking about selling or buying a home, please Contact Lakeland Real Estate Group. We have been listing and selling for our clients and helping buyers find the perfect home for more than 20 years. We have the knowledge and experience to make sure you have a smooth transition. And, we will be by your side every step of the way!
We look forward to serving you!
About the author: Top Reasons for a Closing Delay When Selling a Home was written by Petra Norris of Lakeland Real Estate Group, Inc. With over 20 years of combined experience in selling or buying, she would love to share her knowledge and expertise. Petra can be reached via email at petra@petranorris.com or by phone at 863-712-4207
Are you thinking of selling your home? I would love to share my marketing expertise of our latest marketing techniques with you.
We service the following Central Florida areas: Lakeland, Auburndale, Mulberry, Winter Haven, Bartow, Plant City, Seffner, Valrico, Polk City, Lake Alfred, Lake Wales, Haines City, and Davenport FL.
Don't forget to request our free Seller's Guide.