So…you're ready to sell your home and are eager to move on to the next chapter of your life. That's great!
But wait…
Should you sell your home as-is?
Are you sure?
Selling your home as-is might be a good idea, but then again, it might not.
Let's find out!
What Does Selling a House As-Is Mean Anyway?
Selling your home "as-is" means that you are selling your home in its current condition with the understanding that you will not be making any repairs as a condition of the sale. Selling as-is means a buyer will contract and accept your home with all its current defects and faults. When selling your home as-is everything should be spelled out in the contract so the buyer and seller both indicate their full understanding of this condition by signing.
Does Selling a Home As-Is Relieve the Homeowner from All Responsibility?
There is a huge misconception by many that selling their home as-is means they don't have to do anything to the house, nor do they have to tell the buyer anything about it either. And while the seller isn't required to make any repairs or correct any defects, it DOES NOT relieve the homeowner from the responsibility of having to disclose all known defects large and small about their house.
Quite often, sellers mistakenly believe if they sell their house as-is, they can unload their house quickly and for a higher price than they would have had they done repairs and disclosed all the home's defects. However, every seller has a legal obligation as required by the State of Florida to answer all questions honestly when it comes to the current condition of their home.
When to Consider Selling Your Home As-Is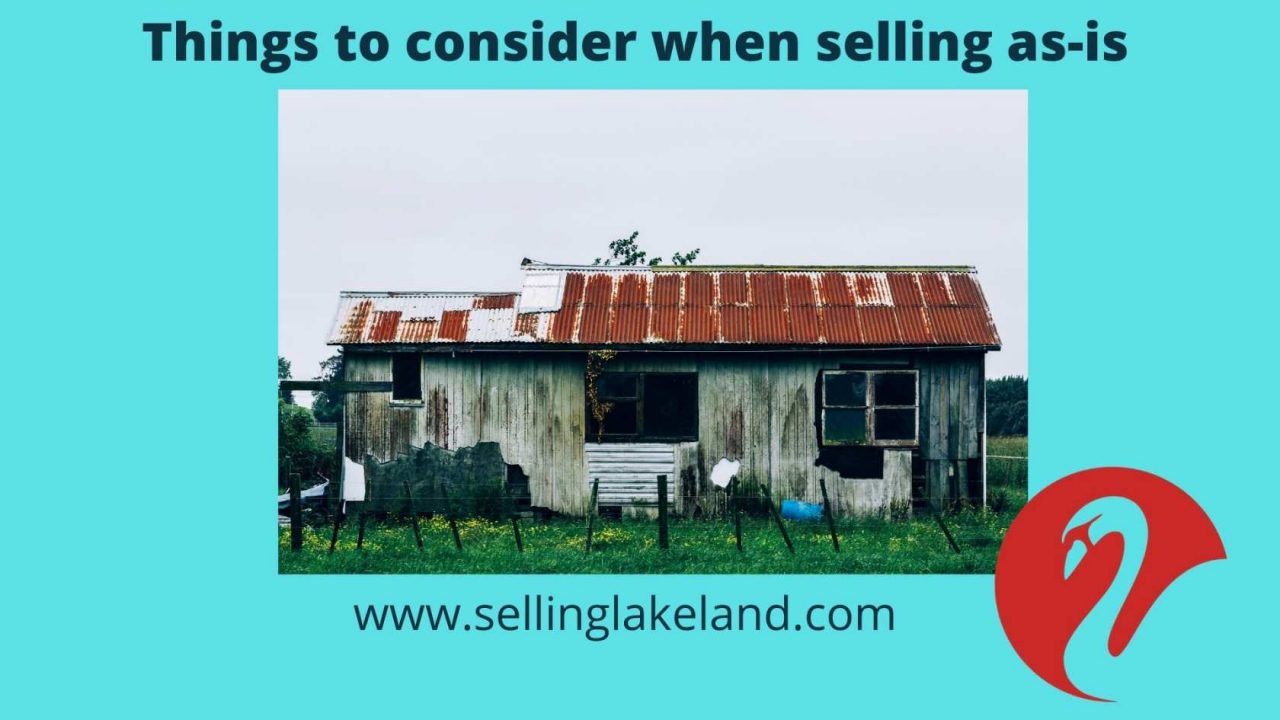 There are some instances when you should consider selling your home as-is.
For example:
Inherited Homes
Selling a home as-is because the heirs are liquidating the estate. This is generally done because the heirs want a quick sale, so they can divide the inheritance. This is also done because the heirs generally haven't lived in that home; therefore, have no way of knowing any of its issues or defects.
Long-Distance Sale
Another reason a seller might want to sell their home as-is stems from the fact that they no longer live near that home, such as is the case when the homeowner has moved cross-country and hasn't lived in that house for a while.
You Can't Afford to Make the Repairs
If you have to sell your home because you can't afford to make the payments, nor can you afford to make the repairs, then selling your home as-is versus having to face foreclosure or serious damage to your home just makes good sense. However, if your home is in major disrepair, you might have a bit of a struggle on your hands or be forced to sell it at a rock bottom price. If this is the case, talk with your realtor. He/she will be able to make suggestions and recommendations on the best way to market your home so you can sell it quickly and for the highest price possible in its current condition.
Seller's Market
There is one time that selling your home as-is could be extremely beneficial to you and that's if you live in a seller's market. A seller's market means there are very few homes for sale in your area. And that the homes in your area are selling for top dollar. Additionally, the competition to get one of the few available homes is fierce. That's why many buyers in a seller's market find buying a fixer-upper the more affordable option.
Yes, selling your home as-is generally means you will have to list it at a lower price. However, since there's not much inventory, you will probably have a bunch of interested buyers all at one time wanting to buy your house. This will create a bidding war where buyers will have to compete for your house which will drive the price of your home above the asking price. And, if you don't have a sudden influx of buyers wanting to buy your home, selling your house as-is and at a slightly lower price than the competition in a seller's market won't matter all that much because you aren't having to do any repairs, so it pretty much washes.
🔥HOT TIP!
Homeowners in Lakeland often sell their house as-is out of convenience, which may not always be in their best interest.
Wait…what?
You just said that selling as-is in a seller's market was a good thing.
Yes, I did, but, for many buyers, seeing any home that is being sold as-is at a lower price creates a red flag in their mind. Therefore, when selling your home as-is you will lose an entire segment of the market which is the skeptical buyers.
Here's where the hot tip comes in:
If you want to capture ALL segments of the market, hungry buyers and skeptical buyers, all you have to do is have a pre-inspection done on your home. Then, if the findings reveal anything you feel needs to be taken care of, you can then go ahead and make a few of those repairs. That leaves you with an unbiased third-party home inspection and completed repairs that you will have in hand to show those skeptical buyers. This is a great way to build trust. And who knows, one of those skeptical buyers could be first in line to make a highest and best offer that far exceeds all your expectations.
The Pros and Cons of Selling a Home As-Is
If you are trying to decide whether to sell your home as-is or not, weighing the pros and cons is a great way to help you reach a decision. Here are some of the pros and cons of selling a home as-is.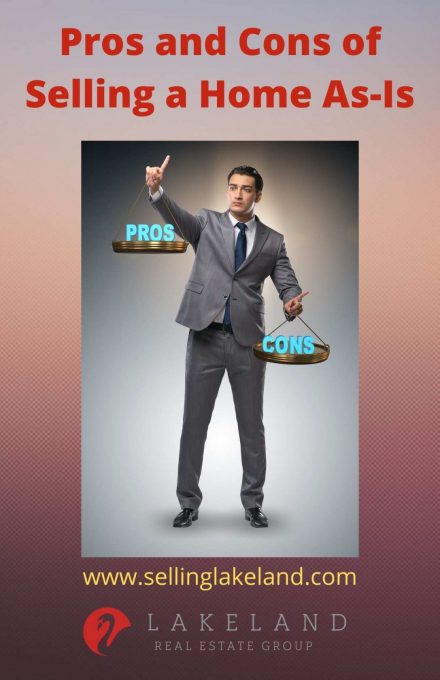 Pros:
You don't have to pay for or perform any repairs.
Selling as-is makes putting your home on the market a much quicker and easier process.
Selling as-is at a slightly lower price in a seller's market might create a bidding war that could get you higher than asking price offers.
As-is home sales are generally less stressful.
Marketing a home in as-is condition will help weed out all but the most serious buyers.
Cons:
As-is homes sell for less money.
Selling your home as-is will generally produce fewer offers, unless you are in a seller's market, but sometimes even then.
An as-is home instantly creates buyer distrust because they automatically suspect problems (please note our hot tip above to remedy skeptical buyers).
When selling a house as-is, buyers will usually expect to haggle on the price, even if you've already priced your home at its fair market value based on its current condition.
If you don't properly disclose all known issues concerning your home, a buyer could potentially sue you for damages.
You have to spend more time trying to convince buyers that your home is actually worth what you are asking for it.
How to Sell Your Home As-Is
If you've decided to sell your home as-is, the marketing and sales process will vary slightly from a traditional home sale that has already had the updates and repairs done to them. So if you want to attract the right type of buyers for an as-is home sale, it would be a good idea to talk with your real estate agent for recommendations and advice. Here are some steps you can take in addition to what your real estate agent tells you.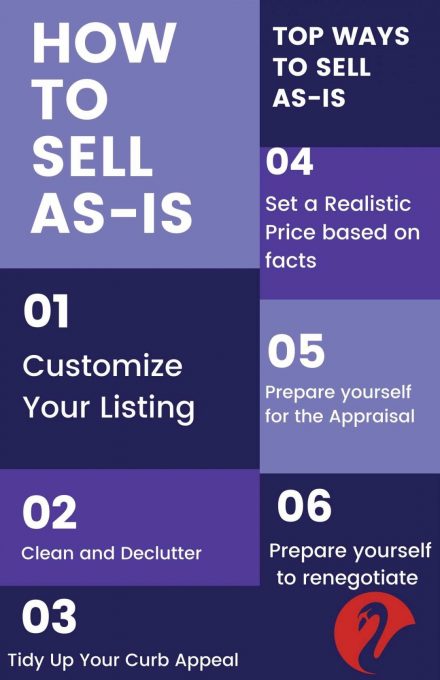 ➣ Customize Your Listing
Clearly state in your MLS listing and other ads that you are selling your home in as-is condition. This will help weed out those who are looking for a turn-key home to buy while attracting only those who want to purchase a fixer-upper.
➣ Clean and Declutter
Just because you are selling your home in as-is condition doesn't mean you can't still try to get as much money as possible for it. And the best way to do that is to spend a fair amount of time cleaning and decluttering your home. That means cleaning everything inside and out and from top to bottom. Make your home shine to the point that it will give the impression that it is a well-cared for home in spite of a few needed repairs. In addition, decluttering and removing anything and everything you don't use on a daily basis, will make your home look bigger and highlight its usable space.
If you don't clean and declutter, buyers might not be able to see past all the mess. Then add in any repairs your house might need and you have a recipe for a multitude of the lowest lowball offers you could imagine.
➣ Tidy Up Your Curb Appeal
It doesn't cost anything to rake up dead leaves, pull weeds, turn flower beds, and trim the hedges and low-hanging tree branches. Every little thing you can do to your home to improve the way it looks and distract buyers from the needed repairs will mean higher offers and a quicker sale.
➣ Set a Realistic Sales Price Based on Facts
If you are selling your home as-is, you know it needs work and probably have a general idea of what needs to be done to bring it up to an acceptable standard…right?
So tally up the repairs and replacements (big and small) your home needs and price it accordingly. If you've had a pre-inspection done, you will be able to show your potential buyers what needs to be done, the estimated costs to complete those repairs and replacements, and exactly how you came to your asking price based on that information. This will help eliminate a significant amount of lowball offers. Buyers will see you are educated and have done your homework, which will leave them with no way to justify their lowball offer.
➣ Prepare Yourself for the Appraisal
Even though your home might be worth the asking price when it is up to standards, it might not be if you are selling it as-is. Every home appraiser will have a different perspective of a home's value even when armed with the area comps. The appraiser can choose any area comps he/she chooses and might not always pick the best ones to use as direct comparisons for your home. So sometimes a home might not appraise for the contracted price. That means either you will have to lower the price of your home, or the buyer will have to put down a larger down payment to meet the appraised value. If either of these options doesn't happen, the sale won't go any further and you will have to put your home back on the market and start all over again trying to find another buyer.
➣ Prepare Yourself for Renegotiation
When you sell your home as-is, you might not think the home inspection matters all that much, besides, you listed, marketed, and quite clearly sold your home in as-is condition. So what's the big deal? Well, even though you have sold your home in as-is condition, it's common for a buyer to want to renegotiate the sale price after they have received the home inspection. So you have two choices, stand firm with your as-is sale and lose the buyer. Alternatively, you could consider lowering your asking price or counter with a compromise that makes both of you happy.
Talk with your real estate agent if you need help making this decision. He/she will be able to provide you with facts and recommendations based on their expertise and years of experience.
Other Helpful Resources When Selling your Home
Some improvements provide you with a greater return than others, as Sharon Paxson writes about it in her latest article, "Add Value To Your Home".
Selling a vacant home has some challenges, especially when owners are living out of state. Danny Margagliano has some great tips to keep a vacant property for sale safe.
Did you know that your home can be sold with no buyer's foot traffic? Kyle Hiscock provides great advice with tips for selling your home virtually.
What's Next?
If you would like more information about selling or buying a home as-is, please Contact Us today. Lakeland Real Estate Group has been helping buyers and sellers in the Lakeland, FL and surrounding areas for many years. And we'd love to show you just how quick and easy the process can be.