Buying and/or selling a home, for most people, is one of the biggest financial, personal, and life-changing decisions they will ever make.
That's why it's so important that before selecting a real estate agent, you take a few minutes to research and find the person who best suits your needs.
And while you might find some who "appears" to be suitable in qualifications, there are other factors to take into consideration as well.
When searching for a real estate agent, most people just look at a person's experience and apparent qualifications, but there is so much more to it. There are other factors most people don't even think to consider; however, they are factors that are equally as important, and really, might even be more important when it comes right down to it.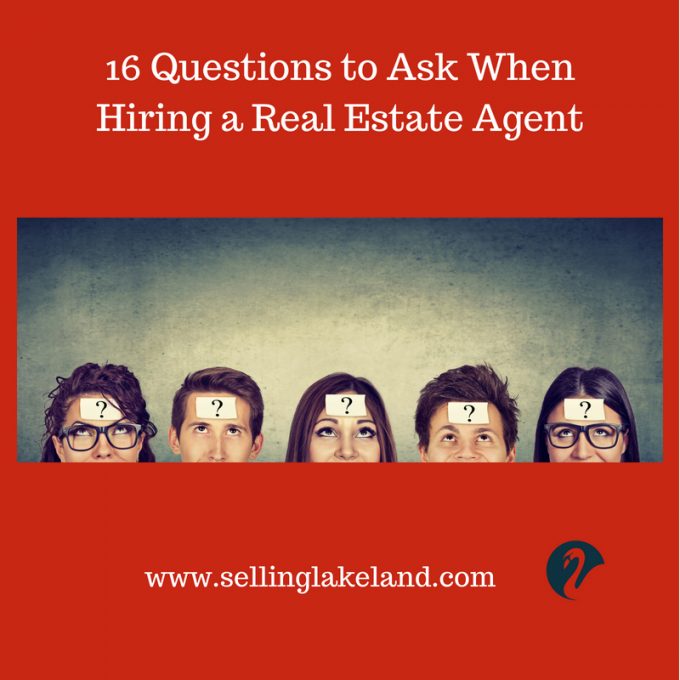 Do you know what those revealing questions and factors are?
It's OK if you don't. In fact, most people don't so you're not alone.
Much of the information available online will give you the same basic information about finding the right real estate agent, which is to search for one who has sold a bunch of houses, one who has a network of other real estate agents they can tap into, and one who has a wealth of glowing testimonials, yada, yada, yada. And while all those things are definitely important, that's really just scratching the surface.
So let's dig a little deeper so you can truly find a real estate agent that best suits your particular needs, and then some.
Here are the top 16 questions you should consider asking before hiring a real estate agent. And some of the not so obvious questions that will help you narrow down your selections to just one—one who truly understands YOU—one who knows exactly how to sell your home quickly and for top dollar. Let's get started!
1. Are you a full time or part time real estate agent?
Anyone can be a good agent part or full time regardless of the number of hours they work as long as there is always someone available you can turn to for help when needed. However, make sure you've vetted that agent well because you don't want to end up with someone who might not be as fluent in the industry and industry negotiations because they don't do it as frequently as someone who is full time.
2. What area locations do you most frequently work and have the most experience with? Can you tell me about them?
It's important to find someone who is well-versed in the areas you are buying/selling your home. This will ensure your chosen agent knows and understands the nuances of the area and can effectively navigate any common issues or hurdles that might arise.
In addition, asking the agent to tell you about the areas they most frequently work will allow you to assess how well they respond and will be a good indicator of how well they really know the area.
3. How many homes have you closed in this area?
Similar to the question above, you can take it a step further and ask how many homes the agent has actually sold and closed in the area you are considering. And whether you are a buyer or seller, the answer to this question is very telling. This will be proof positive the agent has a solid track record of dealing with the types of homes in that area. In addition, it will also ensure they are truly knowledgeable in successfully helping buyers or sellers of the homes in the area and are capable of negotiating the best possible offers.
4. What are the most common hurdles you have faced when buying/selling a house in this area and how do you handle them?
This is a two-fold question and one that, based on the agent's response, will give you an idea of how well that agent handles area specific issues. It will also help you prepare ahead of time for those issues should they arise.
5. What is your unique selling technique that makes you different than other real estate agents?
If you're selling your house, you want your house to stand out above all others. In addition, you also want a real estate agent that stands out above the crowd as well. Therefore, find out what this person does that makes them unique, then ask them to explain why and how that particular technique makes a positive difference in the overall process.
6. Can you provide me with a list of references?
You might want to contact some of the agent's previous clients for feedback on their experiences with that agent. Specifically ask for the positives and the negatives about their experience with that agent so you can get the big picture and to see if anything doesn't sit well with how you believe the process should be handled.
In addition, you might also consider checking the social media websites to see how many people are talking about that particular agent and if what they are saying matches the references you were provided. Just remember, when dealing with social media you have to be a little more discerning and use your best judgment about what you're reading because there could be some negative feedback posted by competitors and/or disgruntled co-workers, etc.
7. What advertising and networking methods do you use?
If you're a seller, you want to find an agent who goes out of their way to sell your home. So by asking him/her about how they will market your home will tell you whether or not they are a high-energy or low-energy agent. A low-energy agent will just list your home on MLS and the other standard real estate websites. This doesn't really take all that much time or effort. A high-energy agent will do that and more. For example, a high-energy agent will list your home, have it staged,  provide you with a unique property website, use a quality DSLR camera or hire a photographer, use social media, be eager to network with other agents in the area,  and any other technique, unique or otherwise, they use to successfully sell homes quickly and for top dollar.
8. Do you provide staging services of any kind?
Having your home staged, whether that be using what you already have or using a professional staging company to bring in staging items and props, is the best way to sell your home quickly and for a high dollar offer. Some real estate companies offer staging services in some variation to you at no cost and others don't. Find out if your real estate agent offers staging services, and if so, what kind of services it entails and whether or not those services are free. Many agents will, at a minimum, have a professional stager come to your home at no charge and offer you staging suggestions which you can then implement yourself.
9. Is your real estate license in good standing and have you ever had any client complaints?
Before making a commitment to any real estate agent, you might want to verify their real estate license is in good standing and if they've ever received any complaints. And if you do find some complaints, ask your potential agent to explain what happened and why. There might be a perfectly good explanation for a complaint because, as you know, you can't keep everyone happy all the time. However, if his/her explanation doesn't meet with your approval, move on to another agent with a better record.
10. Why should I hire you over other agents I've interviewed?
This is a common question and one that a real estate agent shouldn't have to think about. There are no right or wrong answers; however, the answers you receive should meet or exceed your expectations. Most people want a real estate agent who is experienced, honest, a top-notch negotiator, responsive, friendly, readily available, and helpful.
11. Do you have a personal website and/or blog?
Some real estate agents have a personal website aside from the one they use at their office. If he/she does, reading it can provide you with some insight into that agent's personality, professionalism, education, how they respond and handle clients, area expertise, and more. Not all agents have a blog, however, but if they do, read some of their blog posts as well. In addition, you might also look at the accompanying comments which will tell you even more about how well that person handles themselves and their clients (or potential clients).
12. What is the strangest issue you've ever had to overcome in your real estate career?
An agent interview is essentially handled just as if you were interviewing someone for a job, because, technically, you are. Therefore, finding out how an agent has previously handled a strange and unexpected issue, one that couldn't possibly be pre-prepared for, will tell if you that agent is a think on his/her feet type of person. One who doesn't get flustered to the point of not being able to effectively handle unexpected issues when they occur.
13. How many buyers and how many sellers are you currently representing?
The right or wrong answer to this question will depend on several factors. If an agent is representing a large number of clients, that could be a good indication of their success. However, it could also mean that he/she has so many clients they couldn't possibly have enough time in the day to properly handle each one. One caveat is that most real estate agents have a team of administrators to handle much of their workload, so the fact that he/she has a plethora of clients doesn't always mean they can't handle them all proportionately. Which leads us to our next question.
14. Will you be marketing and handling my home buying/selling entirely yourself or will all or some of the tasks be handed off to someone else?
You want to know if the person you are interviewing is the one who will actually be helping/representing you. It's normal for some aspects of the process to be handed off to someone else, especially the administrative tasks. However, you want the person you are interviewing to be the one who is showing and marketing your home or helping you find your new home. This will also be a good indication of whether you can reasonably expect that person to be able to handle a number of clients at the same time, or not.
15. What is your availability?
It is important to find out what days and hours an agent works and if he/she will be available to you when they are off. This will tell you what type of access you will have to your agent should the need arise. You might also ask if someone else will be readily available if for whatever reason he/she can't be reached.
16. What questions do you need to ask me/us?
This is one of those not so obvious questions, but it's one that will tell you everything you need to know about any given real estate agent. By asking an agent what questions they need to ask you will be a good indicator as to how engaged that person will be and how much energy they will be putting into selling your home or finding you a new one. The questions he/she asks you should be fact-finding questions that will help them quickly and effectively identify your needs and goals. The more "quality" questions they ask you the better. This just shows that he/she is extremely conscientious and will work hard to find the home that best suits your wants and needs while staying within your preferred budget.
The Bottom Line
If you want to find the right real estate agent, one who matches your personality and has a drive about them that tells you he/she will work hard to help you meet your needs, then you should spend some time interviewing him/her before making any final decisions. Decisions that could mean the difference between a top dollar offer or a mediocre one. And one that will determine just how quickly you get from start to close.
What is a great real estate agent worth to you?   PRICELESS!
Other Resources When Hiring a Real Estate Agent
Helpful Advice & Why It Matters Who You Hire To Sell Your Home – Jamohl DeWald
Choosing the Right Realtor – Anita Clark
Top 10 Mistakes By Sellers When Choosing A Realtor – Kyle Hiscock
Signs You Hired The Wrong Real Estate Agent – Bill Gasset
______________________________________________________________________________________________________
About the author: The above real estate article "16 Questions to Ask When Hiring a Real Estate Agent" was written by Petra Norris of Lakeland Real Estate Group, Inc.  With over 20 years of combined experience of selling or buying, we would love to share our knowledge and expertise. Petra can be reached via email at petra@petranorris.com or by phone at 863-712-4207
Are you thinking of selling your home? I would love to share my marketing expertise of our latest marketing techniques with you.
We service the following Central Florida areas: Lakeland, Auburndale, Mulberry, Winter Haven, Bartow, Plant City, Seffner, Valrico, Polk City, Lake Alfred, Lake Wales, Haines City, and Davenport FL.
SaveSave